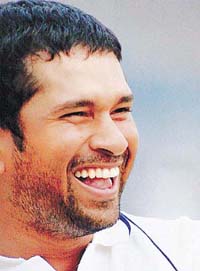 Sachin is set to earn Rs 100 crore over the next five years
The sightscreen at the far end had a digital advertisement on the entire length and breadth of it. It featured Italian automaker Palioís new budgeted small car at the bottom of the hoarding, with more than two-third of it being adorned by Tendulkarís face, giving a restrained even dignified smile. At the end of every over, with the striking batsmanís back at the ubiquitous sightscreen, the Palio advertisement like a venetian blind would slowly open in front of a few thousand spectators at Centurion Park ó and in front of millions of television viewers in India and across the world.
Palio is only one of the latest to ride on the Tendulkar bandwagon of good image and high profile. He is the best known face in India, better than some of the superstars of Bollywood, Indiaís Mumbai based film industry which produces more movies than even Hollywood, and a recent market survey suggested he enjoys more popularity than even the Prime Minister of India. Everything seems to be going for him: immensely successful and yet so young; a career unblemished by not even a hint of scandal (at a time when the match-fixing scandal was at its height Tendulkar was one of the rare few to avoid the scrutiny); an extremely dependable family man and a celebrity who espouses moral values rather than be a walking billboard for vulgar money. Money is important to him but not to the extent he compromises on his image or his privacy. Still, he happens to be the richest cricketer in the world.
If Tendulkar is cricketís most marketable commodity, the late Mark Mascarenhas was the one who created that profile. Mascarenhas was a large man and it must be said if cricket has become such a big marketable force in India ó and the world ó the bullish entrepreneur took a chunk of credit as large as his own frame for it. He was born in Bangalore before he migrated to the United States and learnt his early marketing and business methods working for CBS before opening his own television company ó WorldTel. His entry into the Indian cricket market in the mid-90s was fortuitous. Dalmiya was looking to take on the all-pervading presence of Doordarshan, Indiaís state-owned television network, and sell cricket to the highest bidder. Doordarshan was a stumbling block and assumed unhindered access to cricket matches and telecasts as its birthright. It was seriously hampering Dalmiyaís ambition to let market waves rule the cricket world. He wanted an outsider, a bull-in-a-china-shop kind of entity who would shake up the system. It is all part of Indiaís cricket history as to how Dalmiya and company got rid of Doordarshanís interfering presence from the cricket field; sold the 1996 World Cup to Mascarenhas and his WorldTel at a mindboggling price and the association gradually spread to other countries, notably in Sri Lanka, Bangladesh and Sharjah. The world class quality telecast of matches, the burgeoning graph of one-day matches which converted millions and millions of neutrals into die-hard cricket fans, brought focus ó and in its wake, money ó like never before.
Mascarenhas, who liked being in the company of cricketers, then played a gamble which created a bigger stir and had his profile zooming further up on the horizon. WorldTel signed on the little genius Tendulkar for one and half million dollars annually for five years making him the most expensive cricketer ever. "It was a big risk," said WorldTel chief Mark Mascarenhas. "Somebody told me that he was available and that he wanted someone to represent him. I consulted people like Ravi Shastri and decided on signing the genius."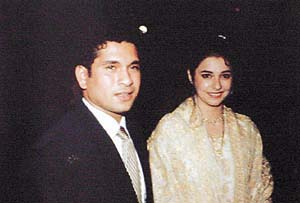 The dependable family man with his wife
Till then Tendulkar, even though a major star and a captain-incumbent in 1995, was not such a hot property in the stakes of the advertising industry. His contract with Action Shoes, was worth a mere Rs 2 lakhs apparently. Even though cricket was popular, its visual appeal was greatly impaired by the poor quality of telecast from Doordarshan, and sponsors were few and far between. What also helped in cricketís image transformation was the fact that India was undergoing a major change in its political climate and for the first time in its history, had gone for open markets. It allowed foreign television networks and multi-national companies to make a pitch in India and cricket was a natural extension for this local and foreign business opportunity. Mascarenhas thus hedged his bets on Tendulkar and he didnít have any regrets. He acquired the right to market Tendulkar in 1996 for the guaranteed payment of $ 7.5 million (Rs 31.5 crore) over five years. In just under three years, WorldTel had raised $ 10 million (Rs 42 crore) in Tendulkarís name. Mascarenhas had after all backed a real star.
Tendulkarís rise coincided with the subcontinentís emergence as the commercial hub of world cricket. In 1992, the India rights for the World Cup were bought for the Rs 25 lakh; for the 1996 World Cup it cost Rs 42 crore. Cricket became the national opiate. It meant that if Adidas pays Leander Paes Rs 12 lakh plus hefty bonuses, for Tendulkar it does not bulk at a crore and more per year in a six-year deal worth a couple of million dollars. Says G. Kannan, general manager, marketing, "At first glance it is a huge figure. But on analysis, if you look at his value, it appears reasonable." This is not a man to waste time bargaining over. During the 1996 World Cup, MRF representatives walked into Mascarenhasí room and said they wanted the rights to Tendulkarís bat. A deal was done in seconds.
The Mascarenhas-Tendulkar partnership grew at a definite pace till the former was killed in a car accident in western India early in 2002. Tendulkar got his respect and money from Mascarenhas even though the latter was not liked by everyone because of his bullish, even boorish, behaviour at times. Mascarenhas in due course of time would also be investigated for his allegedly dubious role in television contracts which now of course has little meaning. Many associated with the game couldnít bring themselves to accept the alliance of somebody as clean as Tendulkar with somebody as uproarious as Mascarenhas.
So when the time for Tendulkarís renewal of contract came up in 2000, there were many who were willing to throw their hats in the ring and see if Tendulkar would catch the bait. They assumed Tendulkar would distance himself from Mascarenhas, as he had done to Ajay Jadeja, one of his real pals before the match-fixing disclosures dragged the latter in its pit. Tendulkar, against the sentiments of many, walked ahead and signed another deal with Mascarenhas.
The money promised by Mascarenhas to Tendulkar was huge even outrageous. He assured Tendulkar of a sum of Rs 100 crore over the next five years, a figure which matched what the accounts of the Indian cricket board showed as profit for its massive operations. Mascarenhas badly needed a prop to help his sagging image in the changed scenario of a new century and his hold on the game had largely come unstuck. He was bailed out by Tendulkar who lent his own reputation to save the one of his long-time manager. It gave Mascareenhas a certain respectability, a kind of lifeline, and showed Tendulkar loyalty to his mates of standing. Under the new contract, Tendulkar would be paid Rs 20 crore per annum for the next five years from WorldTel ó while his annual match fees would not exceed Rs 60 lakhs!
Tendulkar has already signed on with Britannia, HomeTrade, Boost, MRF, Adidas, Visa, Pepsi and more recently Fiat Palio. Each of these contracts is said to average about Rs 1.5 crore a year. Sources say that for HomeTrade he was paid a whopping Rs 5 crore. A fast-food chain of stores across the world was also being planned by Mascarenhas to capitalise on Tendulkarís image before his death put the matter on hold.
Tendulkar brings his own clinical efficiency for his sponsors off the field. He is known to refuse a cola in public and insists on Pepsi which he endorses. This story would help drive the point home: Recently he was travelling on a private airline and was offered a cola by an airhostess. He politely turned it down and asked for Pepsi. A fellow passenger, impressed by the iconís brand loyalty, conveyed this to Vibha Paul Rishi, executive vice-president (marketing) of Pepsi, who interacts with Tendulkar on the companyís behalf. Rishi dashed off a letter thanking Tendulkar. The little geniusí response was typical: "You can always expect that from me." "Thatís typical Sachin," said Vibha". Itís pretty hard initially to get him to sign up for you. But once he does, he is totally committed to the product."
In fact the four major sponsors of Sachin, MRF, Grindlays and Adidas, apart from Pepsi, whom the Wee ó a national magazine, spoke to were quick to commend his commitment. "We were to shoot a commercial with Sachin at the end of a very tiring day," reminisced G. Kannan, general manager (marketing), Adidas. "His commitment while doing the shoot was incredible."
"He may not be the most flashy person around but he certainly represents the right values that we want to be associated with," Kannan said. "He is just far ahead of the rest."
Tendulkar has personal sponsorship worth US$ 15.5 million over four years with companies such as Philips, MRF, Colgate, Adidas, Visa and Pepsi. Tendulkar is paid $ 15,000 for each Test match appearance and $ 6,000 for a limited overs international. Everytime he hits a century for India, Pepsi tops up his pocket money with another $ 15,000. His souvenir bat recently fetched $ 1500. Compared to Tendulkar, Vishwanathan Anand, Indiaís celebrated chess star, made just around Rs 5 crore through his endorsement of computer education company NIIT. According to industry sources, Anandís match fees are two to five times higher than what cricketers in India draw.
Anandís appearance fees range from $ 100,000 (Rs 47 lakh) to $ 250,000 (Rs 1.2 crore) per event. Anand earned $ 660,000 (Rs 3.1 crore) when he became world champion in December 2000.
A distant number three and four are Sourav Ganguly and Rahul Dravid. Industry estimates indicate that the Indian cricket captain has earned approximately Rs 4.5 crore from his international cricketing career while deputy Dravid would have made Rs 4.2 crore.
Endorsements of course are very much part of the game. Ganguly has been featuring in campaigns ranging from the soft drink Coke to the two-wheeler giant Hero Honda. Dravid endorses Pepsi and Kissan Jammy as well as Castrol. Tendulkar fills a vacuum in a nation bereft of role models, in and beyond sport. He has an appeal that is seductive to the entire Indian universe. "Audiences are fragmented, but heís one of the few big unifying symbols," says Rajan. It is an aura so compelling that one sponsor admits: "If you put him on one side and the team on the other, he is still the meatier proposition." A recent TNT/Cartoon Network poll among 600 children in the 7-18 age-group endorses that. When they were asked to name Indiaís top sportsperson, Sachin received 51 per cent of the vote; Mohammed Azharuddin was a distant second at 10 per cent. Predictably, no Indian cricketer is paid close to Rs 1 crore a year; only Australiaís Shane Warne, signed on by Nike and Channel Nine, is endorsed so heavily.
Tendulkar has cultivated his image sensibly. Unafraid of interviews, careful not to court controversy, he is, says sports entrepreneur Lokesh Sharma, "a winner with the boy-next-door face". He will never earn what basketball icon Michael Jordan does, yet he escapes the censure Jordan faces. As the American writer Frank Deford put it, "This Jordan is a conglomerate, they say, too greedy, lacking social responsibility."
Tendulkar is a mini-conglomerate. More comfortably, social consciousness is not a required part of his agenda. Quietly, one hears, he does his part, like assisting a programme that helps Mumbai slum children. But Indians, interested only in what he does at the wicket, do not quibble over how much he earns. Why should they? When last could one man alone lift a nationís mood?
(Excerpted from Sachin Tendulkar Masterful by Peter Murray & Ashish Shukla. Rupa Books, N. Delhi. PP 167. Price 395)