Old wine...?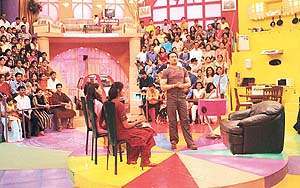 Suman hosting Neelamghar... Will the magic work?
It's complete makeover if ever there was one. And it can only happen in Zee. Neelamghar Bid Bid Boom has a new team of directors, new set designers, new co-host and even a new timing. What's not changed is Shekhar Suman, its irrepressible host.
The duration of the show has been cut from 45 to 30 minutes and it is now being aired every Tuesday and Wednesday at 9.00 p.m. The producers claim that the total value of prizes too have been increased and the average winning now is around Rs 5 lakh.
Recently the new format of the show that was shot in a Noida studio had 350 participants who were randomly selected. They were made to wait for nearly four hours before the cameras started whirring. But ire soon gave way to smiles as Suman regaled people with his witty adlibbing. To top it all, a Delhi participant won a gleaming new Maruti. Though Neelamghar has not been a great success story of Zee, it now remains to be seen whether the new team will be able to inject a much-needed synergy into the show.
Hit show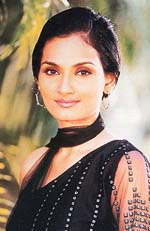 Rajeshwari hosting Caravan; A musical delight.
This one's truly for connoisseurs of Hindi film songs. Unforgettable melodies that instantly pull at the heart strings and evoke a nostalgia of the golden era of movies. Caravaan on Tuesdays at 4.30 p.m. on Sony Max is a half hour show that airs the all-time hit Hindi films songs which were created by true artists and have a timeless appeal.
Hosted by actress and singer Rajeshwari Sachdev, Caravaan has all the popular hits of Bollywood, right from the fifties to the eighties.
What gives the show its class is the people attached to it. The list has been carefully selected by none other than Gulzar, Asha Bhonsle, and music directors Pyarelal and Ravindra Jain.
From an originally handpicked list of 500 songs, the four have made a final selection of 100 best songs over the years... songs that have become legends and are enshrined in everyone's psyche.
The science of winning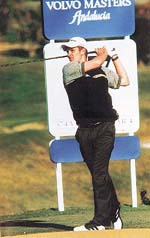 Winning's the name of the game
Every day thousands of would-be Tiger Woods go on to a golf course in search of the perfect swing or the perfect putt. But what is the science behind the perfect golfing machine? There is now a multi-billion dollar research and development industry that strives to find success of the fairway.
A new series, Science of Sport on the National Geographic Channel, Monday to Friday at 9 p.m. examines the winning phenomenon of the playing fields. Sport as explained by physics, psychology and technology — the science behind golf, cricket, soccer, tennis and athletics.
How much difference can swing doctors and their bio-mechanical tricks make? Or is it the latest technolgy that gives you the edge? Or in the end is it really something in the mind, which makes you a winner?
Meet some of the top golfers in the world, including Justin Rose, as they experience the highs and lows of 18 holes of golf.
See how science has improved the quality of the top pros' games and visit research and development facilities to see how science is allowing both professionals and amateurs to reach new heights of golfing by mastering the formula of success.
Chiller thrillers
Things are getting chilling in the hot month of May. Thriller Specials on Star Gold every Saturday at 7 p.m. take you back to the innocent suspense stories of the seventies that were both naive and entertaining.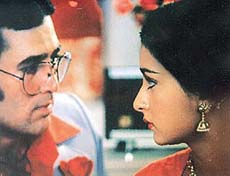 Rajesh Khanna and Poonam Dhillon in Red Rose
So even if you missed Red Rose and Hatya — the first two Saturday thrillers there are two more to go — the late Mukul Anand's Aitbaar on May 19 starring Suresh Oberoi, Dimple Kapadia and Raj Babbar and the Jackie Shroff starrer 2001 on May 26.
These are not the creepy kinds that send a tingle down the spine. These are also not about splattered blood or violence, but about things that naturally scare you.
Both the films — and especially Aitbaar — are trendy and stylish. Both are romantic adventure-cum-thrillers. They may not have the edge-of-the-seat suspense of an Alfred Hitchcock film or the gizmos of James Bond, but they are mysterious and thrilling enough to keep you glued.
Cradle to the grave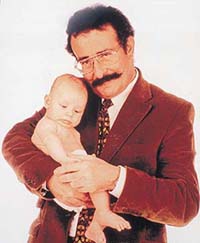 The Human Body: Journey of life
From man's very beginnings as a fertilised egg, through the complexity of over 10 billion cells working in symphony, to body's design and endurance and into death and decay, The Human Body is the most ambitious and in-depth biology series ever undertaken.
Using state-of-the art photography to reveal how bodies work, and what it is to live inside this incredible collection of bones, brains and blood, The Human Body BBC World, Saturdays at 1.40 p.m. takes viewers on a voyage through the seven ages of existence.
From childhood onwards, to the teenage and youth to old age and death, the programme traces the evolutionary development of humans, and how they came to be the most advanced life-form on the planet.
Two years in the making, this major documentary series is presented by Professor Robert Winston, Britain's leading fertility expert. Everything is explained in such easy-to-understand language that at places it appears you are watching a slick science fiction. Which is why it is worth every minute of your time.
— Mukesh Khosla