Monday, May 20, 2002, Chandigarh, India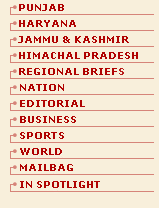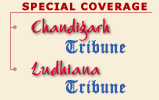 Govt school collecting 'unauthorised' funds
Principal claims having permission; Education Dept denies
Chandigarh, May 19
Unauthorised collection of funds at Government Girls High School, Sector 25, has practically gone unnoticed by the UT Education Department, while parents of students studying in the school claim it has been going on for the past three years.
Building bylaws flouted in Industrial Area
Schools, furniture shops galore
Panchkula, May 19
Is failure on the part of the Haryana Urban Development Authority (HUDA) to develop the Industrial Area here a reason for the authorities turning a blind eye towards large-scale violation of building bylaws? The answer could well be in the affirmative, if the blatant misuse of industrial plots in the township is any consideration.
Slum kids ready for new challenges
Chandigarh, May 19
For the first time in the history of Chandigarh, three children from the lowest rung of society are being offered the privilege of academically rehabilitating themselves in a reputed boarding school in Solan. Come May 23 and Arjun, Arun and Vinod, shoeshine boys from Sector 25 slums, will take their first step towards a bright future.
Whisky goes the beer way
May 19, 2002
Discounts cost liquor traders dear
May 18, 2002
MC removes green areas in housing complex
May 17, 2002
PU move on seats for poor, bright students
May 16, 2002
Changes in building bylaws okayed
May 15, 2002
Administration's diktat puts allottees to disadvantage
May 14, 2002
Bar Council to register cases against 'fake' graduates
May 13, 2002
New curriculum from this session: CBSE chief
May 12, 2002
PU to declare all exam results by June 30
May 11, 2002
Goods over Rs 30 lakh gutted in three fire incidents
May 10, 2002
Masked robbers strike at midnight
May 9, 2002