Wednesday, May 22, 2002, Chandigarh, India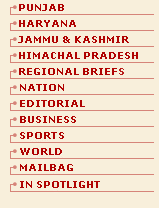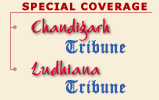 M A I N N E W S
Badal sought favours from gurdwara judicial panel
Varinder Walia
Tribune News Service
Amritsar, May 21
After the letters of Mr Parkash Singh Badal written to the Prime Minister to recommend the name of Ravinder Pal Singh Sidhu, the tainted Chairman of the Punjab Public Service Commission, for membership of the UPSC, two more letters written to the President of the Sikh Gurdwara Judicial Commission by Mr Badal in his capacity as the Chief Minister for seeking favours are likely to cause a flutter in the Panthic circles.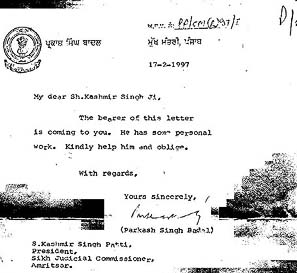 Mr Kashmir Singh Patti, the then chairman of the Sikh Gurdwara Judicial Commission, today released two letters of Mr Badal (dated February 17, 1997, and an undated letter) showing that Mr Badal tried in vain to influence the members of the commission. The contents of the letter read, "The bearer of the letter, Mr Nishan Singh, is very close to me. He will explain his difficulties. Listen to him and do the needful". Another letter sought a personal favour for a close confidant.
It is pertinent to mention here that at the time of a cold war between Mr Badal and Mr Gurcharan Singh Tohra, the then President of the SGPC, the Badal government had removed all members of the judicial commission, including Mr Patti. In yet another notification, the state government appointed new members of the commission, including Mr Manmohan Singh Brar, a former Akali MLA. The Sikh circles felt that the Badal government had to reconstitute the judicial commission as it feared that a number of cases would be filed by the Tohra group which had parted with Mr Badal.
Mr Patti, who is still fighting a legal battle against the arbitrary reconstitution of the judicial commission, said the personal or demi-official letters written by the then Chief Minister to the members of the commission was direct interference in judicial matters. He claimed that members of the judicial commission were as good as judge of a court.
The judicial commission is basically a judicial body which directly and substantially controls the functioning of the operation of the gurdwara managements according to the Sikh Gurdwara Act which was passed by Parliament. The complaints pertaining to the management of Sikh gurdwaras are disposed of by following the procedure laid down in the CrPC. Hence the commission is apparently a statutory body. Any Sikh who is a serving or retired district judge or subordinate judge (first class) or a barrister of not less than 10 years' standing can be a member of the judicial commission.
The Panthic circles feel that the Shiromani Akali Dal, which has been accusing the opposition governments of direct interference in the Sikh affairs, will be in the dock after the release of two letters of Mr Badal written on the letterhead of the Chief Minister.