In video: Blanket security in Kashmir ahead of Prime minister Vajpayee's visit to the state. (28k, 56k)

Army withdrawn from Gujarat
Put on operational status along border
New Delhi, May 21
With tension on the border with Pakistan on the rise, the government today decided to withdraw the Army on duty in the riot-affected state of Gujarat and asked the troops to return to their "operational status" along the border in the state.
POTA is need of the hour: HC
Chandigarh, May 21
In the first-ever judgement of its kind in the country on a petition challenging the constitutional validity of the Prevention of Terrorism Act, Mr Justice Jawahar Lal Gupta and Mr Justice N.K. Sud of the Punjab and Haryana High Court today held that the "Act rightly aimed at reducing the procedural tangles and armed the Court with the power to impose effective penalties on the terrorist as well as on those who were his partners in the commitment of the heinous crime against man and his kind".
In Health Tribune today

THE TRIBUNE MAGAZINES
On Mondays

On Sundays
On Saturdays

IN PASSING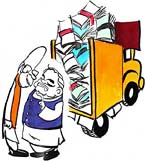 Atalji, we have a truck-load of evidence against Pakistan. Should we send these papers to General Musharraf?

by Sandeep Joshi

Bhullar submits resignation
Chandigarh, May 21
The Punjab Irrigation Minister, Mr Gurchet Singh Bhullar who, it is alleged, was involved in the murder of senior Akali leader Gurdial Singh and six others in Bhikhiwind, near Amritsar, on May 19, today tendered his resignation to the Chief Minister, Capt Amarinder Singh.
Badal sought favours from gurdwara judicial panel
Amritsar, May 21
After the letters of Mr Parkash Singh Badal written to the Prime Minister to recommend the name of Ravinder Pal Singh Sidhu, the tainted Chairman of the Punjab Public Service Commission, for membership of the UPSC, two more letters written to the President of the Sikh Gurdwara Judicial Commission by Mr Badal in his capacity as the Chief Minister for seeking favours are likely to cause a flutter in the Panthic circles.
No sitting Judge for commission: CJ
Chandigarh, May 21
A search has started for a retired Judge to head the one-man inquiry commission to probe all acts of omission and commission by the previous SAD-BJP government in Punjab as the Chief Justice of the Punjab and Haryana High Court has expressed his inability to spare a sitting Judge for the commission. The reply of the Chief Justice to the Punjab Chief Minister is the second major setback to the Congress government in the state in its crusade against corruption.
Six Pak troops killed
May 21, 2002

Paramilitary forces on LoC, border under Army control
May 20, 2002


Pak told to recall High Commissioner
May 19, 2002


Nation committed to end Pak-backed terrorism
May 18, 2002


Time for action, says Army Chief
May 17, 2002


Badal sought UPSC berth for Sidhu
May 16, 2002

Militants massacre 23 kin of Army men
May 15, 2002

India to expose Pak mischief
May 14, 2002


12 killed in UP rail accident
May 13, 2002


NDA leaves it to Vajpayee
May 12, 2002