Sunday, May 26, 2002, Chandigarh, India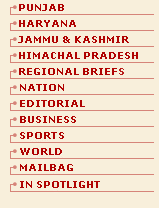 C A L E N D A R
Sunday, May 26, 2002
Vikrama Samvat
2059
Jyeshtha
13
Shaka Samvat
1924
Jyeshtha
5
Hijri
1423
Rabi-ul-avval
13

Vaishakha poornima up to 5.22 p.m.
The 15th lunar day of the bright half of Vaishakha.
Anuradha Nakshatra up to 2.40 a.m. (May 27).
Ending of Bhadra at 6.30 a.m.
Koorma Jayanti.
Budha Poornima.
Ending of Vaishakha ablutionary acts.
Lord Yamas Kumbh dan day.