Starry blackout
It's cloak-and-dagger stuff. A real-life war of supremacy that can put any television soap to shame. And the script is simple — money, money, money.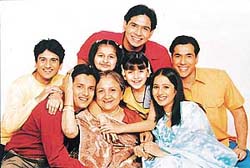 Kyunki Saas Bhi Kabhi Bahu Thi: On the blimp

The ongoing tussle between cable operators and Star Television has resulted in the blackout of the channel in many places. A number of cable operators have not paid their dues to the channel and have allegedly been presenting fudged subscription figures.
In a fit of rage Star TV has blipped the signals of these cable operators. Under immense pressure from viewers who are missing out on some of the most popular serials mostly on Star Plus, defaulting cable operators are reportedly beaming the channel illegally.
Says a Star spokesperson, "In the last few days we have raided the premises of many operators who have not paid our dues but have been illegally showing our channels. We had to take this drastic step after we tried all other methods to make them pay."
This follows a steep hike in the rates of bouquets of other channels like Zee, Sony and ESPN-Star. In many parts viewers will have to pay Rs 12 a day for all the channels.
Which all strengthens the case for speedy deployment of the conditional access system (CAS) so that viewers can decide which channel they want to see and which they don't.
Movie magic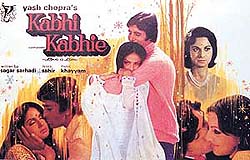 Kabhi Kabhi: Summer specials on Sony Max

The filmi funda at Sony Entertainment Television seems to get better by the day. The channel is believed to have struck a deal with Subhash Ghai and bought over the complete library of Mukta Arts for a reported sum of Rs 14 crore.
Seven of the 15 Ghai films are being aired from May 25. Some of the blockbusters include Taal (May 25), Karma (June 1), Karz (June 8), Pardes (June 15), Saudagar (June 22) Khalnayak (June 29) and Yaadein (July 6). The rest of the eight films will be shown on Sony Max in October.
Sony Max meanwhile continues with its Super Cinema at 9 p.m. daily. "The segment has been specially started to fill the summer vacations with drama, romance, suspense and thrills of a Hindi film. We aim to make it a real show stopper," says a spokesperson.
From the innocence of Jaya Bhaduri in Guddi to an intense and smouldering Amitabh Bachchan in Kabhi Kabhi and a laugh-a-minute Hadd Kar Di Aapne there will be plenty on view for the Hindi film buffs this summer. Couch potatoes can start popping the corn and sit back and watch the Bollywood magic unfold.
Gaate hain shaan se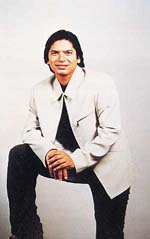 Shaan: Will Sa Re Ga Ma be his song of success?

Nobody knows why Sonu Nigam left in the first place. But he must thank Zee TV for all the opportunities that he's landed after he quit Sa Re Ga Ma Fridays 10 p.m. Now Ayaan and Amaan Ali too seem to be in the thick of things after quitting the show.
New anchor Shaan must also be hoping that things will look up once he's completed his innings in this musical talent hunt show that has given Bollywood singers like Sunidhi Chauhan and Bela.
However, Sa Re Ga Ma has seen a steep decline in its popularity that peaked when Sonu Nigam was its host. Amjad Ali Khan's sons Amaan and Ayaan gave it a certain classicism that alienated it from the masses.
Now, after a gap of a few months the show is back with Shaan as its new anchor. The channel hopes the singer will bring back the glory of the past. Shaan must be hoping that the show does to him what it did for Sonu Nigam — put his musical career on a song.
Scripting his own success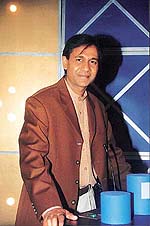 Sidharth Basu: "Consistency & commitment add up to success."

He can sit back and enjoy the sweet taste of success. But this super achiever shows no sign of quitting. In fact, on certain days quizmaster Sidharth Basu can be having his breakfast, lunch and dinner at three different cities and still be ready with his disarming smile for a camera.
For Basu success is no big deal. A person who's anchored, produced or directed dozens of hit quiz shows, including Kaun Banega Crorepati, Basu is a modest man. "Exposure hasn't meant much other than the opportunities it opens up. Success, if any, has come due to consistency and commitment. It's been a steady graph".
Basu's production house Synergy Communications has done Quiz Time, Spectrum, Bean Stalk Quiz, Mastermind India. However, its biggest success to date has been Amitabh Bachchan anchored KBC. Says Basu, "It's been 26 years of work, work and work".
High-pressure existence is something he has learnt to live with. He says his de-stressing happens by "goofing off with the family, watching TV, listening to music, sharing a good laugh and taking a walk."
But when it comes to work he is uncompromising. Everything has to be according to exact specifications. Almost to perfection — as was the case with the sets of KBC. "That's the only way to survive in this fiercely competitive line. If you are a stickler for quality you can seldom go wrong". And Basu himself is a living example of that.
Future perfect?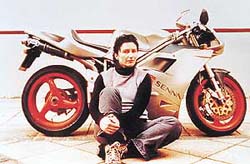 Designing our lives: New-age science
How will science change the world? What important role does design play in changing our lives? Designing Our Lives every Monday 7 p.m. starting June 1 on BBC World examines the impact design will have globally in the years to come.
The first part of June 1 will deal with the changes to the body, both natural and with the aid of science. For example, one researcher claims smart cards with details of individual dimensions will in future make sure clothes fit. More startlingly, a US scientist predicts a 'cure' for ageing.
The second part on June 8 will trace 200 years of patenting history and will investigate the speculation that private companies dealing in genetics could patent human genes.
The third part on June 15 will investigate the phenomena of home design for economic gain and the creation of homes whose appearance doesn't reflect people's lives. Viewers will visit a Japanese-style show house in the UK and a full-scale replica of an English village in Japan.
The fourth and last part on June 22 will go into the phenomena of 'smart roads', where magnetic strips incorporated into the surface assess weather conditions and drivers progress via computers, ultimately allowing drivers to become passengers in their own vehicles.
— Mukesh Khosla