M A I N N E W S
Roaring guns defy Pervez speech
Tribune News Service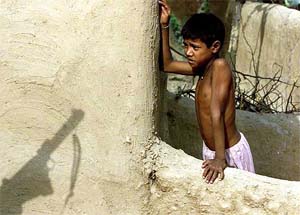 A boy looks at an Indian soldier patrolling his village, some 30 km from Jammu, on Tuesday. — Reuters photo
Jammu, May 28
Notwithstanding the Pakistan President, Gen Pervez Musharraf's promise made during his Monday address to the nation that his country's soil would not be allowed to be used by terrorists, Pakistan troops again resorted to heavy firing and shelling from across Kargil, Dras, Bhimber Gali, Krishna Ghati in Poonch sector, Nowshehra in Rajouri, and R. S. Pora and Samba sectors today to push into Jammu and Kashmir large groups of militants.
Defence Ministry sources said right from last evening the Pakistan troops carried out artillery and mortar shelling from across Kargil and Dras in which several houses suffered partial damage. More that 200 civilians fled to safer places from the Chanigund and Soas areas near Kargil. Shopkeepers shut their business establishments in the Kargil and Dras areas. On routes between Dras and Kargil, passenger transport services were suspended as part of measures to ensure that no vehicle was hit by artillery or mortar shells.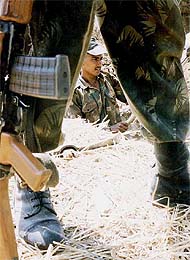 A soldier digs trench near the Indo-Pak border in the Shamba sector on Tuesday. — PTI photo
The sources said the Indian troops "retaliated effectively" and damaged more than 20 Pakistan bunkers and vital military installations across Kargil, Dras, Nowshehra and Bhimber Gali. Several Pakistan soldiers were killed and wounded.
In the Nowshehra area two civilians were wounded and two houses damaged in Pakistan shelling. Here also the Indian forces retaliated, flattening several uninhabited villages and destroying several Pakistan bunkers.
The sources said the Pakistan forces resorted to heavy firing from across Ramgarh, R. S. Pora and Samba sectors in Jammu.
State Revenue Department officials said during the past 24 hours more than 200 civilians, including women and children, fled to safer places from the Nowshehra, R.S. Pora and Ramgarh areas. They said during the past 10 days more than 25,000 civilians had migrated from the border areas.
Defence Ministry officials said besides trying to unnerve the Indian forces the main reason behind the Pakistan firing and shelling was to carve out infiltration routes which had got blocked to a large extent since the January military buildup. The Pakistan strategy was to send at least 5,000 additional guerrillas to Jammu and Kashmir so that in the event of any American pressure, the terrorists inside the state could sustain the ongoing armed campaign against India.
The officials explained that the Pakistan military establishment was trying to raise the number so well-equipped terrorists so that in case a war broke out between India and Pakistan these terrorists could attack the Indian troops from behind.
This way the Pakistan General was keeping all options on the ground open to fight the Indian forces that are not only numerically stronger than the other side but also in possession of superior weapons.
It is in this connection that Pakistan has moved 80 per cent of its tanks close to the LoC and installed its missile system at focal points to hit major Indian cities.