THE TRIBUNE MAGAZINES
On Mondays

On Sundays
On Saturdays

IN PASSING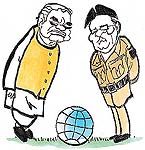 20, 19, 18 ... 17 ...
by Sandeep Joshi
George meets Service chiefs
New Delhi, May 28
Defence Minister George Fernandes today reflected the predicament that India was facing when he described the India-Pakistan border standoff as "serious" and that nothing could be predicted as to what would happen, although the country was on the verge of a confrontation.
Vajpayee's 'busy' holiday ends
Manali, May 28
The Prime Minister, Mr Atal Behari Vajpayee, today left for Delhi after his five-day sojourn at Prini, 4 km from here on the Manali-Naggar road. He refrained from commenting on the Pakistan President, Gen Pervez Musharraf's address to his nation last night. Mr Vajpayee cut short his visit and returned to Delhi a day earlier.
Narayanan open to second term
New Delhi, May 28
President K. R. Narayanan has an "open mind" for a second term. Mr Narayanan is understood to have conveyed this to Congress President Sonia Gandhi when she called on him this evening to inform him of her party's decision to back him. During their 20-minute one-to-one meeting, she told the President that her party favoured a second term for him.
SGPC member nabbed in narcotics racket
Bathinda, May 28
The police today arrested Mr Sadhu Singh Ragi, a member of the SGPC and former president, Market Committee, Bhadur, for his alleged involvement in the smuggling and sale of narcotics.
TRIBUNE SPECIAL
Biggest building bylaws violation scam
Amritsar, May 28
The biggest-ever scam pertaining to the violation of building bylaws involving crores of rupees, which occurred during the five-year tenure of the SAD-BJP-led municipal corporation has been unearthed by the Local Government Department. The scam came to light when Mr Sarvesh Kaushal, secretary, Local Government, sought the record of the legal notices issued to building violators since 1997.
Pak not exporting terror
May 28, 2002
Fulfil pledge, PM tells Pervez
May 27, 2002
Pak test-fires Ghauri
May 26, 2002
Time not ripe for war: Congress
May 25, 2002
We won't allow Pak's proxy war: Vajpayee
May 24, 2002
PPSC scam probe: glaring gaps, 31 'missing' names
May 23, 2002

Six more Pak soldiers killed
May 22, 2002

Six Pak troops killed
May 21, 2002


Paramilitary forces on LoC, border under Army control
May 20, 2002


Pak told to recall High Commissioner
May 19, 2002


Nation committed to end Pak-backed terrorism
May 18, 2002