Russian beauty is Miss Universe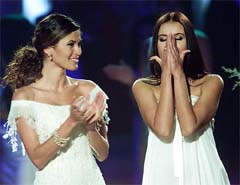 Miss Panama Justine Pasek looks on, while Miss Russia Oxana Fedorova reacts as she wins the 2002 Miss Universe crown in San Juan, Puerto Rico, on Wednesday.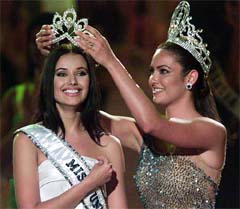 Miss Russia Oxana Fedorova is crowned Miss Universe 2002 by Miss Universe 2001 Denise Quinones in San Juan, Puerto Rico, on Wednesday. — Reuters photos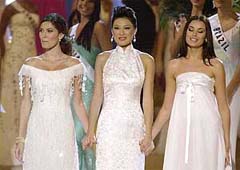 The final three Miss Universe delegates hold hands on the stage as they wait for the winner to be named during the Miss Universe pageant at the Roberto Clemente Coliseum in San Juan, Puerto Rico Wednesday, At left is runner-up Miss Panama Justine Pasek, second runner-up Miss China Ling Zhuo, and Miss Universe 2002 Oxana Fedorova.
— AP/PTI photo
San Juan, May 30
Miss India Neha Dhupia made into the top 10 of the Miss Universe contest but was eliminated in the final round which saw Oxana Fedorova of Russia winning the coveted 2002 crown.
The five finalists were posed with a final question that dodged politics or controversy: "What makes you blush?"
"When I say the wrong things!" Fedorova, the 24-year-old only child from St Petersburg said last night wearing a white evening gown grinning to a raucous crowd waving US flags. She takes home prizes worth $ 250,000.
Dhupia made into the top 10 but was eliminated in the final round with Miss Albania Anisa Kospiri, Miss Germany Natascha Borger, Miss Cyprus Demetra Eleftheriou and Miss Canada Neelam Verma. All take home a cash prize of $ 500.
According to AFP, Miss India was pushed by reporters to take a position on the use of nuclear weapons.
But in the end none of the contestants, who could spark controversy, made it into the top five.
Miss Panama, Justine Pasek, was the first runner-up. Wearing a white off-the-shoulder gown with fringe, the 22-year-old wants to be an environmental engineer. She takes home $ 3,000 and a trophy.
Miss China, 19-year-old Ling Zhuo won the second place. Wearing a sleek Asian-styled satin gown, she wants to be a fashion designer. It was the first time China has sent a contestant. She wins $ 2,000 and a trophy.
Miss South Africa, 22-year-old Vanessa Carreira, took third place and wore a sparking white gown with a glittering bustier. The budding novelist wants to own an advertising agency. She wins $ 1,000 and a trophy.
The 5'-11" Russian with black hair and green eyes wore a toga-like dress for the evening gown competition. She is a university lecturer and doing postgraduate work in civil law. She wants to become an attorney and a mother, and has a 38-year-old boyfriend named Vladimir.
She will take home prizes worth about $ 250,000 in addition to promotional contracts and a two-year scholarship to the School for Film and Television in New York. She also gets to spend a year in New York on a salary and is provided with a luxury riverside apartment.
Miss U.S. Virgin Islands, Merlisa Rhonda George, won the Miss Congeniality award, taking home $ 1,000 cash prize and a trophy.
Absent from the top 10 were Miss USA, 23-year-old Shauntay Hinton and Miss Puerto Rico, 21-year-old Isis Marie Casalduc, who won the Miss Photogenic award.
Contestants were judged in three categories — swimsuit, evening gown and the interview.
The costume prize went to Miss Colombia, 20-year-old Vanessa Mendoza, in a gold dress adorned with blue, yellow and red feathers. AP