Sunday, June 2, 2002, Chandigarh, India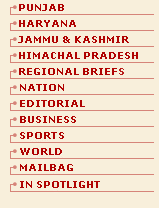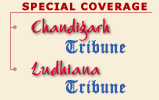 B U S I N E S S
Govt announces revised duty drawback rates
New Delhi, June 1
Duty drawback, an export incentive to compensate duty borne on imported inputs, was today revised for about 850 items in the face of changes in customs duty in the Union budget.
Exports go up 18 pc in April
New Delhi, June 1
After months of negative growth, the country's exports went up by 18.17 per cent to $ 3,680.89 million during April, 2002, as compared to $ 3115 million, recorded during April, 2001.
Disinvestment Commission report on June 3
Chandigarh, June 1
The Punjab Public Sector Disinvestment Commission would submit its draft report to the State Government on June 3. The report, according to a Press note of the Commission, would focus mainly on 29 Public Sector Undertakings (PSUs) , their 11 subsidiaries and 9 apex cooperative institutions (ACIs).


PSIDC in debt snarl-II
Will Rs 100 cr fresh bonds help PSIDC?
CHANDIGARH: PSIDC MD Viswajeet Khanna says the presentation to the Chief Minister, Capt. Amarinder Singh, was by way of stock-taking. It was intended to enable the new entrepreneur-friendly government frame its policies to promote industrial growth.

Archived story: PSIDC in debt snarl
Govt warns Tatas of legal action
June 1, 2002
Maruti formally handed over to Suzuki
May 31, 2002
Troop buildup-cost factored in Budget
May 30, 2002
Policies to create 50 m jobs during 10th Plan
May 29, 2002
Economy strong enough to face war
May 28, 2002
Second-hand scooters get very cheap
May 27, 2002
Balaji Tele net zooms 566 pc
May 26, 2002
Reliance, Essar, ONGC to sell petrol
May 25, 2002
Rs 1500 cr industrial proposals for Haryana
May 24, 2002
Gold surges as war fear mounts
May 23, 2002