M A I N N E W S
Battered staffer returns home
India lodges protest with Pakistan
Tribune News Service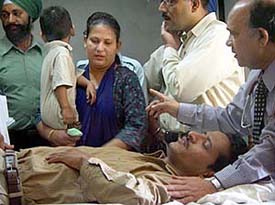 Pakistani Dr Qureshi and Indian Dr Rajinder examine the expelled staffer in an immigration office at Wagha, Punjab, on Thursday. — Photo Rajiv Sharma

Wagah, June 6
The brutally injured Indian staffer, Mr Kulwant Singh, who was expelled by Islamabad returned to India today along with his terrified wife, Ms Kamla, and two sons after undergoing torture at the hands of ISI operatives during his five-hour captivity on June1.

While the expelled staffer narrated startling facts about his kidnapping by seven unidentified ISI men, his wife said Pakistan was not a country worth living in and minorities, especially Indian staffers, remained under constant threat. The ISI followed them like a shadow, she said.

Mr Kulwant Singh who was brought on a stretcher in a Pakistani ambulance to India at 11.20 a.m. was unable to speak properly due to the torture. The Pakistani orthopaedician, Dr Qureshi, and members of the Indian Consulate in Pakistan also accompanied him. He said he was kidnapped while he was going from the consulate to his house on a motor cycle with his son Rahul (10) in the afternoon of June 1.

Ordering his expulsion on alleged spying charges, Pakistan had declared him persona non grata for his involvement in activities "not-compatible with his official status". Pakistan had said Mr Kulwant Singh was intercepted by the security authorities while receiving sensitive documents from a Pakistani contact.

While Dr Qureshi refused to give details of the multiple injuries sustained by Mr Kulwant Singh Indian doctors, Dr Rajinder Arora and Dr Rajiv Dev, after conducting a check-up at the immigration office here said his condition was serious and that he was tortured with a blunt weapon due to which he had suffered backbone fractures and could not stand up. They said he needed a thorough check-up and medical attention after an MRI and CT scan.

Giving details of his captivity, Mr Kulwant Singh and another Indian staffer, Mr J.N. Rai, said he was taken to a jungle after his face was covered with a mask. He was taken to a torture cell where he was asked about the sensitive documents he had no knowledge of. In a choked voice, Mr Kulwant Singh said he and his family members had never expected such inhuman treatment in Pakistan.

Visibly shaken, Rahul, who was an eyewitness to the kidnapping said he would never visit Pakistan again.

"Seven persons kidnapped me and drove me to some unknown destination. I was first handcuffed and thereafter beaten up brutally. During my captivity, they used filthy language and inflicted as much torture on me which they could before they finally handed me over at a police station nearby," the staffer said.

He said he was forced to sign a confessional statement that stated he was apprehended for spying. He said he was hit with an iron rod on the back and after that he could not stand on his feet.

Mr Kulwant Singh who was

being taken to Wagah by the Pakistani authorities on June 4 was taken back to Islamabad when his convoy had reached 50 km from Lahore. Officials at the Indian Consulate said Mr Kulwant Singh was not allowed to return to India on that day as Pakistan apprehended that the story of the torture would have dominated the Almaty conference which was in progress at that time.

After a brief stopover here, Mr Kulwant Singh and his family members were flown to New Delhi from Raja Sansi International Airport.

New Delhi: Mr Kulwant Singh, Indian staffer at its High Commission in Islamabad, was brought here on Thursday on a stretcher and was admitted to AIIMS for treatment of spinal and pelvic region injuries.

India has lodged a strong protest with Pakistan over the barbaric torture of Mr Kulwant Singh which was in complete departure from the international norms and the bilaterally agreed code of conduct for treatment of diplomatic staff, a spokesperson for the Ministry of External Affairs said.

She said India had lodged a strong protest with Pakistan twice over the maltreatment meted out to Mr Kulwant Singh — first over the week-end and the latest one yesterday.

The spokesperson said Mr Kulwant Singh was "shaken and disoriented" with his experience in Islamabad. She said apart from other injuries, Mr Kulwant Singh was suffering from loss of sensation in his lower limbs as a result of the "worst form of torture" meted out to him.

Asked if the Pakistanis had deliberately delayed Mr Kulwant Singh's departure for two days and forcibly sent him back from Wagah border to Islamabad after making him wait for hours because his condition was really very bad, the spokesperson said: "It seems to be an intelligent guess."

Significantly, New Delhi is going to take up the matter with the US Deputy Secretary of State Richard Armitage who arrives here for a one-day visit tomorrow. "It is a logical conclusion" was the terse reply of the MEA spokesperson when asked about it.