THE TRIBUNE MAGAZINES
On Mondays

On Sundays
On Saturdays

IN PASSING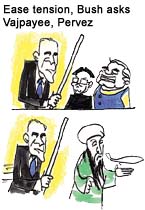 by Sandeep Joshi
VSNL issue: volte-face by Mahajan
New Delhi, June 6
In an apparent volte-face of sorts, Communication Minister Pramod Mahajan today indicated his readiness to rescind from his earlier rigid stand on the VSNL's decision to invest Rs 1,200 crore in the Tata Teleservices.
Salary of board, corpn staff cut
Chandigarh, June 6
Resentment prevails among employees in Punjab as the government has started enforcing the Council of Ministers' decision to slash the salaries of employees working in state-owned boards, corporations and other PSUs.
14 BKU men freed on bail
Jind, June 6
Fourteen Bharatiya Kisan Union members, arrested in connection with a violent incident at Kandela village in December, were released on bail today. The BKU had demanded that they should be released from jail only by the withdrawal of the cases against them. To push its demand, the BKU yesterday withdrew its bail petition through its lawyer, Mr Surinder Singh Punia.
TRIBUNE EXCLUSIVE
24 MLAs to join CM's foreign jaunt
Chandigarh, June 6
INLD MLAs in Haryana are facing "interviews" these days. No, they are not seeking jobs. They are being interviewed by the consulate staff of various countries in Delhi for granting them visas. If all goes well, about two dozen INLD MLAs will fly out of the country in the second week of this month.
India ready for joint patrolling on LoC: PM
June 6, 2002


India rejects third-party mediation
June 5, 2002

Petrol to cost Rs 2.50 more
June 4, 2002


PM to talk with Putin and Zemin, but not Musharraf
June 3, 2002


13 Pak troops killed
June 2, 2002


61 pc of Kashmiris want to remain with India
June 1, 2002


Heavy shelling by Pak
May 31, 2002

Stop terrorism, says UK
May 30, 2002

Pak 'epicentre' of terrorism
May 29, 2002
Pak not exporting terror
May 28, 2002
Fulfil pledge, PM tells Pervez
May 27, 2002