Sunday, June 9, 2002

VIP Toon Tales
Gen Fidel Ramos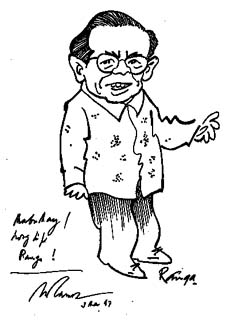 GEN Fidel Ramos, President of The Philippines, was in Delhi in 1997 on a state visit.
Considered to be one of the ablest generals, Ramos has seen action in Korea and Vietnam and is known for his gallantry. A soft-spoken man, Ramos had a chat with Indian leaders and remained busy with his engagements.
He saw a part of Delhi, and was happy that his visit was really enjoyable. I was lucky to be able to meet him when he was in a good mood. I had the sketch I had drawn of him and took the help of the protocol officer to present it to him for his autograph. He was delighted and passed it to the members of his entourage for a look . When he got it back, he signed on it with happy remarks.