Little Mirchi grows up



Gauri of the Little Mirchi Thoda Pepper fame
She sizzled on the small screen as the bubbly young girl of Little Mirchi Thoda Pepper. Then she showed her acumen as the somewhat dour Sukanya. Now Gauri Karnik is in pastures new.
No, she hasn't given up television. Instead she has put one step into Bollywood as the lead star of Tanuja Chandra's Sur.
"There's no denying this girl has talent," say Tanuja." One look at her and I knew I had found the person I was looking for."
Needless to say the 1998 Miss India contestant Gauri is ecstatic. She says that though television is a more exciting medium, films are the real passport to the glamour world.
But she's not quitting television. Gauri says she's looking at some scripts and will soon be back in business. But this time both on the small and big screens.
Never say die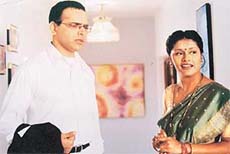 Chhaya with Pallavi Joshi in Justjoo
He's been television's quintessential number two man. Despite good performance in serials like Swabhimaan, Daraar, Hasratien, limelight had eluded him. But now, after Justjoo, Harsh Chhaya is getting the recognition he long deserved.
Husband of Shefali Chhaya, Harsh has been around for over a decade, never making it to the numero uno spot but never going out of business and always picking roles that left a lasting impression on the viewers' mind.
And look at his range. He played an illegitimate son in Swabhimaan, a blind teacher in Daraar, a baddie in Hasratein. In fact, most of his roles have stretched his acting abilities.
In his currently-on serial Justjoo, every Tuesday 8.30 pm on Zee TV, he plays the role of a philandering husband. "This is definitely the most challenging role I've ever played," he says. And perhaps the best time in his decade-long television career.
A graduate from Delhi's Jamia Milia Islamia, Harsh did a few forgettable serials before getting his big break in Hasretein which would ensure him a steady trickle of roles. Ever since then there's been no looking back.
Now his 10-year toil is bearing fruit. With Justjoo he breaks new ground playing a man caught in the midst of an emotionally complex relationship. And going by the response, Chhaya has a reasons to celebrate. So does Zee TV, which has a winner after a long time.
Mission impossible
Is it possible to build a skyscraper twice as high as New York's Empire State Building? Or a bridge that connects Europe and Africa? Or a ship that is over 1.5 km in length?
Believe it or not, all these projects are already on the drawing boards. If built, they would be engineering achievements of historic proportions. Could they really become a reality and if so, would they be safe?
Engineering the Impossible, premiering June 9 on Discovery Channel at 10 pm, profiles the individuals behind these projects and their plans of changing the world.
A Hong Kong Harbour tower twice the size of New York's Empire State Building. A city within a city, with its own hospitals, schools and a range of entertainment and retail options large enough to attract traffic necessary for the financial success of such an endeavour.
A bridge, spanning 14.5 km over the Straits of Gibraltar at the entry to the Mediterranean, would connect Christian and Muslim cultures and potentially increase ties between the economies of Europe and Africa.
The Freedom Ship, would virtually be a city at sea, that would be nearly 1.6 kilometers in length and become the largest ocean-going vessel ever constructed.
Engineering the Impossible examines the feasibility of these extraordinary projects through graphics, venturing into the real world to explore the technology and meeting the people that could turn these dreams into reality. This is no science fiction but a fascinating peep into the future world.
Final journey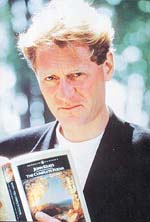 The Last Journey of John Keats: Dying young
In 1820, John Keats, one of England's finest poets, was dying of tuberculosis. In an attempt to save his life, doctors advised him to travel to Italy, for its healthier climate.
But that was to be an exercise in futility as the Italian climate did nothing for the poet and his condition started to deteriorate quite dramatically.
Andrew Motion, Keats' biographer, sets out in a ship to retrace the consumptive poet's tortuous trip to Naples and Rome, where he finally died at the young age of 25.
The Last Journey of John Keats, BBC World, June 29, 8.40 pm, takes extracts from poems and letters written by Keats to create a realistic portrait of the vibrant young man of ideas and passion and is a peep into the life of one of the greatest poets the world has ever seen.
— Mukesh Khosla