With Health Department headless, water crisis deepens
Sonepat, June 14
The administration of the Public Health Department in this city seems to have collapsed since the retirement of the Superintending Engineer and the transfer of the Executive Engineer from here. This has resulted in a water crisis, causing inconvenience to thousands of residents as a result of disruption in water supply system almost every day.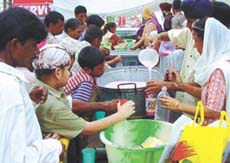 On the occasion of Guru Arjan Devji's martyrdom day on Friday, chhabeels were organised at various places in the Capital.
— Tribune Photo Mukesh Aggarwal
Boycott Hooda's padayatra: HKU
Sonepat, June 14
Mr Dharampal Deswal, president of the Haryana Kisan Union, today appealed to farmers of the state to boycott the padayatra undertaken by the president of the Haryana Pradesh Congress Committee (HPCC), Mr Bhupinder Singh Hooda, as Mr Hooda had no sympathy for them.
Sonepat gears up for floods
Sonepat, June 14
The Commissioner-cum-Secretary of the Irrigation Department, Haryana, Mr Chander Singh, reviewed the progress of flood protection works in Sonepat district with the Deputy Commissioner, Mr S. N. Roy, and other district officials here last evening.
BSF soldier cremated with full honours
Rewari, June 14
The body of Naresh Kumar Yadav, Assistant Commandant of BSF (Border Security Force), was cremated with military honours, at his native village Nandrampur Bas, about 20 km from here, today.
Units suffer due to sewer line blockage
New Delhi, June 14
The units in the Capital's largest industrial area, Okhla, are faced with a peculiar problem of sewer line blockage, which is affecting the work.
Residents block traffic to protest power cuts
New Delhi June 14
Irate residents of several East Delhi colonies on either side of the busy Vikas Marg took to the streets and blocked traffic for over an hour on Thursday night to protest against frequent power cuts even as the Delhi Vidyut Board top brass continued to maintain that the situation was normal.


SPEAKING OUT
TV has become one of the most popular mediums of education today. No wonder, the viewing of TV has registered a spectacular increase. Be it a student or an old man, one can find them glued to the 'small screen'. For hours, sitting in front of the `idiot box' has become a fad. There were times when family members and friends were interested in personal interaction.


THE SILVER LINING IN DARK CLOUDS
Sick units

Results' anomaly

Role of media

Sports stadium needed

Thank you, NCR Tribune
NCR BRIEFS
Fake audio cassettes seized, two arrested
Rohtak, June 14
The police arrested two youths on Thursday evening who were allegedly indulged in preparing fake audio cassettes at a house located in Indira Colony locality here.
Parole breach

Vehicle stolen

Gang busted

Woman stabbed

Commits suicide

Baby dies

Man run over

Effigy burnt

Martyrdom day

Case registered

Youth kills himself

Waterless