ART SCAPE
In search of perfection, he modelled Auroville
Garima Pant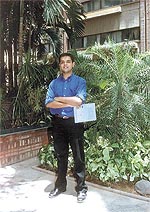 Bankim Kalra: Master architect.
His looks say it all. Completely unperturbed, chasing deadlines, running around to get the details right even in the oppressive Delhi heat. The reason behind this is that he is an Aurovillean to the core. He never loses his composure, smiles effortlessly and gives all the right reasons for having chosen Auroville as his adopted city. Meet Bankim Kalra, an architect, who is building a dream the Aurovillean way, along with building the city itself.
Auroville is being envisaged as a universal city for 50,000 people. It is at present an emerging township of about 1,700 volunteers from India and some 30 countries around the world. Located in an impoverished rural area of Tamil Nadu, the Auroville township is surrounded by 13 villages with a population of approximately 40,000 people. Its residents represent an amazing mix of languages and cultures and a wide gamut of educational and socio-economic backgrounds.
Bankim is a Don Bosco product, who later graduated in architecture from the Sushant School of Art and Architecture. "I had gone to visit Auroville as a student and got instinctively attracted to the place in just two hours. There was something very peaceful about the place. In those few minutes when I stood on the rooftop of the information centre in Auroville, I was sure that I was going to come back."
And he did, for his final year thesis in architecture, when he chose a project in Auroville. Later, Kalra was invited by Luigi Zanzi, director of Auroville's Future, to work in building the township. Says Kalra: "In the course of my thesis, I felt a deep connection to Auroville. When I read the Auroville charter, it mesmerised me - especially one particular sentence of the charter-" Auroville will be a place of an unending education of constant progress."
After he accepted Luigi's invitation, Kalra was initially involved in the visualisation and preparation of a development plan for the International Zone of Auroville and worked closely with its chief architect, Roger Anger. Yet, at the same time he was also involved in the designing of an exhibition that was put up for the Auroville International Meeting in St Petersburg, Russia. Even after his apprenticeship, he continued working there. Around June 2001, a complete project from the commencement stage was handed over to him. "The project seemed to me as an opportunity to know more about India and let the world know about it too. I decided to work with the Asia Urbs Programme because I was fascinated by its vision of bringing together people from Europe and India to create a working atmosphere built on experience and experiments."
The project was a partnership project co-financed by the European Commission under the Asia Urbs Programme, titled 'City Networking for Sustainable Development and Human Unity'. As a part of the project, he began to amass a book on profiles of 201 Indian cities, focusing on urban development to be printed and distributed in India and Europe. To his credit he was the technical, research, creative and the public relations coordinator for an international conference that was held in Auroville on the themes of city networking, sustainable development and human unity.
Kalra has been a major contributor in setting up a web page for information sharing on city networking and best practices and urban development together with creating an urban profile of 201 Indian cities. The exhibition, which was held recently in Delhi, aspired to increase the capacity of interaction and networking between European and Indian cities and initiating an information exchange network. It proved to be a great success. Kalra now he plans to go back to Auroville to be a part of the team that is realising the dream of the city of Auroville.
Cultural heritage
"If I ever come across a painting it takes me at least 10 minutes to realise which side faces up or down. How do you expect me to visit these art galleries?" says Suparna, a first year B.Com. student. "I have no interest in visiting these exhibitions or art shows. I never visit them and my family also believes that it is a waste of time, money and energy", says Isha, another student. These are just some of the views of a couple of young people who are the future citizens and carriers of our rich cultural heritage.
We have a land of diversities, of rich and varied artistic inheritance. We possess so much art in our soil that each pebble represents a different style. One way of staying in touch with the existing forms and the upcoming different trends is through these arts exhibitions. But how many of us visit these places? This kind of indifference towards art exhibitions seems widely prevalent among the youth. A few of those who were asked this question gave a negative response. All of them said unequivocally they hardly had any interest in such an activity. They have hardly ever seen anybody from their family or the neighbourhood going to such places.
Swati, a first year student of mass communication, feels, "These shows are not meant for the middle class. They are for the elite of society. It definitely requires a great deal of time and money to visit them. Also, even if a work of art can be understood by a lay man he is likely to miss it as these events are not adequately highlighted. Their publicity is limited to only a certain section of society."
This is the age of supersonic jets and rapid action. Art is something that requires one to contemplate and then appreciate. It is a complex process and requires time. Poonam Goel, a noted journalist, who has written a great deal about art and about the people associated with it, feels, "Right from the time of school, there is hardly any sense of art appreciation inculcated in the kids. Youngsters do not get the feel of it from an early age and thus they hardly hold any interest in it. Also, the teens nowadays are very much career-oriented. After school, as they reach college level, exposure is still limited and very few get a taste of art. They don't find it lucrative enough to take it up as a profession as it is not a hyped one." The parents also want to see their children well settled and thus hardly encourage such activities. It becomes a sort of a vicious circle, which restricts the development of a liking towards art.
Let us hope and believe that sooner or later people will realise the importance of our own art and culture and instill this in Gen-X.
Adding colour to life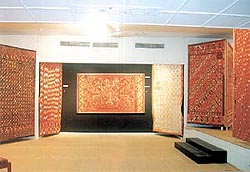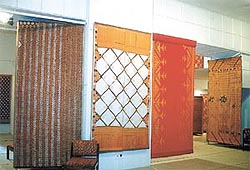 Phulkari from Punjab: A rich and exotic art form on display.
Phulkari, which literally means working with flowers, is a unique form of embroidery on the orhnis (which covers women in Punjab from head downwards allowing them to veil their face when necessary) made by Punjabi women. Passed down from generation to generation, women to women, they denote the material status and cultural upbringing and ambience of the girls' filial home. This rich and exotic art form is on exhibit these days at the Crafts Museum (National Handicrafts and Handlooms Museum) at Pragati Maidan and will be on display till July 31. The exhibition is classified into nine categories, which are representative examples of this traditional craft.
Phulkari was never an individual's expression of skills. Women of a family jointly embroidered them while working as a team. This art exemplifies creativity at its highest. This family treasure was passed on from generation to generation. Phulkari depicts the delicate needlework skills of the female ancestors and also their love and passion for life and yearning for unfulfilled desires.
The birth of a child in the house witnesses the beginning of the preparation for making a 'phulkari', which would eventually be given as a gift to the child, if it is a girl, or to the future bride, if it is a boy. A propitious day would be fixed to start the work on this particular wrap, which was generally made of homespun khaddar. Prayers and suhag songs (marriage songs) would precede the first stitch on the selected fabric. The philosophy of phulkari is based upon love, devotion, prestige and power of the transformation of women from maidenhood to marriage. Phulkari, apart from being auspicious, adds colour and richness to various ceremonies and occasions.