Video
As tensions between India and Pakistan continue, Hindu immigrants in Punjab say they will not return to Pakistan.
(28k, 56k)
DEBT BANE OF PUNJAB FARMERS-I
Shylocks still prowl in villages
Ludhiana, June 20
The era of village Shylocks usurping land of the farmers in debt may have faded from memory, but it is a harsh reality that even after the British enacted the Punjab Debtors Protection Act, 1936, to guarantee inalienability of half the farmer's land and the security of his assets, more than 3 per cent of land in rural Punjab passes into the hands of the moneylenders even today.
5,703 cases of power theft detected
Rs 1.5-cr penalty slapped on guilty
Amritsar, June 20
Even as the Punjab State Electricity Board (PSEB) has issued fresh instructions to its staff to withhold delivery of electricity bills to consumers who migrated from the Indo-Pakistan border to safer places after the Army build-up, flying squads slapped a penalty to the tune of Rs 1.5 crore on 5,703 consumers who were found indulging in power theft.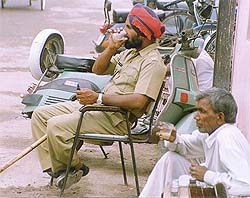 Their tools of trade at hand, a policeman and a cobbler sip their morning tea near Bathinda railway station on Thursday. — Tribune photo Kulbir Beera
Panel seeks report on old-age pension scam
Amritsar, June 20
Taking cognizance of a report published in The Tribune (May 12) about the Rs 23-crore old-age pension scam, the Punjab State Human Rights Commission has directed the Principal Secretary (Home) and IGP (Litigation) to submit a report to the commission before August 29.
Index page: Panel to probe rice scam
Tota Singh remanded till June 23
Kharar, June 20
Ms Harinder Sidhu, Duty Magistrate, Kharar, today remanded Mr Tota Singh, former Education Minister, Punjab, in police remand till June 23.
Anti-corruption drive politically motivated: BJP
Bathinda, June 20
Ms Gurcharan Kaur, an MP and senior BJP leader, said yesterday that the BJP's support to Dr A.P.J. Abdul Kalam for the President's post showed that the party did not have ill-will against any particular community.

Concern over rise in AIDS cases
Ropar, June 20
Experts have expressed concern over the unprecedented rise in suspected AIDS cases in the district. At a seminar organised here today, the Primary Medical Officer of the BBMB Canal Hospital said though the number of full-blown AIDS cases in Punjab was just 203, as per the latest data released by the National AIDS Control Organisation, the number of HIV-positive cases was much higher.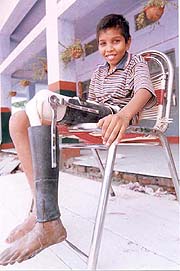 A handicapped child gives a smile after getting an artificial limb at a free camp organised in Jalandhar on Thursday.
— PTI photo
Brickbats for Budget
Bathinda, June 20
The local unit of the Punjab State Ministerial Services Union has flayed the provisions announced by the Punjab Government in the 2002-03 Budget. In a statement issued here today, the President of the union, Mr G.S. Grewal, said the government had failed to keep the promises made earlier.
Budget agitates Punjab doctors
Chandigarh, June 20
The Punjab Civil Medical Services Association, Punjab, has decided to gear up its ongoing agitation against the review of the non-practicing allowance and hike in user charges for the common man at government hospitals in the Budget by the Finance Minister, Punjab, Mr Lal Singh.
Construction of roads to be probed
Bhucho mandi (Bathinda), June 20
Mr Anurag Verma, Deputy Commissioner, yesterday ordered an inquiry to be conducted by the Deputy Director, Department of Local Bodies, into the alleged use of substandard material for building roads in the town.
Police remand for ultras till June 26
Moga, June 20
Two ultras, Amandeep Singh and Mahavir Singh, arrested by the local police yesterday have been remanded in police custody till June 26. Mr Varinder Kumar, SSP, Moga, told TNS that they were produced before the judicial court of Mr K.K. Bansal here this morning.
Hearing on Dy Director's bail plea adjourned
Ropar, June 20
Mr Maghar Khan, Sessions Judge, adjourned for July 9 hearing on the anticipatory bail application of Ms Kiran Dhawan, Deputy Director, Social Security, Women and Child Development, Punjab, here today.
Remand of Langah's agents extended
Ropar, June 20
Mr Maghar Khan, Sessions Judge, extended till July 9 the judicial remand of Amrik Singh Mohali, Gurcharan Singh Channi, Pradeep Bhateja and Kamaljit Singh, alias Neetu alleged touts of former Punjab PWD Minister Sucha Singh Langah, here today.
Villagers seek action against doctor
Phillaur, June 20
More than 200 men and women of nearby Rurrka Kalan village held a demonstration and staged a dharna in front of the SDM office, and civil hospital, here for more than three hours to protest against the corrupt practice of a Medical Officer of the Civil Hospital, Phillaur, Dr (Mrs) Sidhu, today.
Over 50 pc vets 'want to migrate to Canada'
Abohar, June 20
Over 50 per cent veterinary officers employed with the Punjab Government wish to migrate to Canada in view of the fast increasing demand. This was revealed by Dr Ajaib Singh and Dr Mandeep Singh, president and general secretary, respectively of the Muktsar district unit of the Punjab State Veterinary Officers Association today.
Two murder cases solved
Gurdaspur, June 20
Wih the arrest of Arun Kumar and Sukhdev Singh of Tibber village, the police here claims to have solved murder cases of Surjit Singh of Ladhupur village whose body was found from UBDC canal at Dhariwal on June 9 and Vishal Kumar of Tibber whose body was found from Ladhupur in March last year.
Award for thermal plant
Bathinda, June 20
While the state government has proposed a change in the award of generation allowance to the employees of the various thermal plants of the state, the more than 25-year-old Guru Nanak Dev Thermal Plant (GNDTP), which has crossed its expiry date, has won a cash award of Rs 12.88 lakh for the 10th year in row.

POSTINGS/ TRANSFERS
34 Punjab IAS, PCS officers transferred
Chandigarh, June 20
The Punjab Government ordered following 34 transfers and fresh postings of IAS and PCS officers today:
Interview call for no day
Chandigarh, June 20
A number of candidates, who had applied for Class IV posts in the office of the Auditor General, Punjab, were in for surprise as the interview call letters, received by them did not mention the date of interview. Even the office address mentioned on these letters was not correct.
Vehicle thieves arrested
Jalandhar, June 20
The district police has busted a gang of criminals by arresting four of its members, who used to sell stolen cars by using fake documents. Five vehicles have been recovered from them.
Pirated CDs, porn films seized
Amritsar, June 20
A large number of CDs were seized by the police in two separate raids conducted on fish market and Ravidas Road late last evening. A large number of pirated CDs of new Hindi films and pornographic films were seized. Six persons, including the owners of the shops were arrested.
2 arrested for murder
Bathinda, June 20
The police today claimed to have solved the murder case of Darshan Kumar, brother of a municipal councillor, Surinder Pal Kaur Mangat, by arresting the brother-in-law of the deceased and another person.
PTU unearths exam scam
Jalandhar, June 20
Punjab Technical University (PTU) has detected cases regarding use of unfair means involving a Director-cum-Controller of the J.D. Institute of Management and Technology and National College of Information Technology, Muktsar. He allegedly used to allow a few chosen students to attempt their papers again after these had been sealed and entrusted in his custody.
PTU plans seminars on IT
Chandigarh, June 20
Punjab Technical University will soon hold a series of seminars on IT throughout Punjab to create an awareness about the advanced programmes used by professionals around the world in information technology.
CLASS X RESULTS
Additional subjects create row
SAS Nagar, June 20
A decision of the Punjab School Education Board to decide merit of the candidates who appeared in this year's matriculation examination, on the basis of marks secured in six subjects, instead of the total eight, is attracting strong criticism from candidates.
Fee refund eludes ex-student
Bathinda, June 20
Priya Goyal, a BDS student, is still waiting for the refund of fee and other charges paid to a dental college at Dera Bassi, although she migrated to another institution in February.
GND varsity to start MCA course
Amritsar, June 20
Guru Nanak Dev University has decided to start a five-year integrated MCA course on the university campus here from the current session. An entrance test for the course will be held on July 4. The last date for the submission of application forms is July 2.
Confusion over status of medical college
Amritsar, June 20
Confusion prevails among students applying for medical seats in the Guru Ram Das Institute of Medical Sciences and Research here over the college being denied permission by the Ministry of Health and Family Welfare, for making admissions.