Saturday, June 22, 2002, Chandigarh, India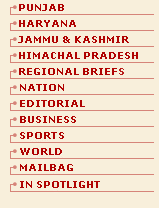 C A L E N D A R
Saturday, June 22, 2002
Vikrama Samvat
2059
Ashara
8
Shaka Samvat
1924
Ashara
1
Hijri
1423
Rabi-ussani
10

Jyeshtha Shukla Paksha Dwadashi up to 7.49 a.m.
The twelfth lunar day of the bright half of Jyeshtha.
Vishakha Nakshatra up to 12.25 p.m.
The moon enters Scorpio at 9.42 a.m.
The sun enters Aardra at 8.50 a.m.
Shani Pradosh brata.
Beginning of Vata-Savitri brata (Gujarat).