Sunday, June 23, 2002

Bridge
When South had no chance
by Omar Sharif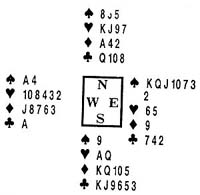 A GREAT deal has been written about opening leads over the years and many "do's" and "don'ts" have become well established.
This week's hand, from an old magazine, is a good example of a thinking player breaking one of the golden rules ("Never lead away from an Ace against a suit contract") and yet achieving a resounding success.
East dealt at love all and opened Three Spades, South over-called with Four Clubs, West competed with Four Spades; but North's raise to Five Clubs ended the auction.
This left West on lead with a difficult problem. He could see two likely tricks and it was always possible that the defenders could take a second Spade trick. But if only one Spade was available, it would be necessary to look for another trick.
As partner had opened with a pre-emptive bid, it was unlikely that he held anything other than a good Spade suit. The best chance seemed to lie in finding him with a singleton in either red suit.
Then when West got in with CA, he could give his partner a ruff.
But which red suit? Even a sight of dummy after leading the Ace of Spades might not help. West found a spectacular solution when he led S4, taking the slight risk that East might not hold the King.
East was surprised to find that his ten won, but it did not take him long to work out what was required. At trick two he played back his singleton Diamond.
Now South had no chance. When West got in with his Ace of Clubs, he played a second Diamond and his partner ruffed for the setting trick.