That's life
His career has come a full circle. Back in 1981, Farouque Shaikh started his tryst with showbiz as a television host for Doordarshan's, Yuva Darshan. Two decades later, he's on TV again as host of Jeena Isi Ka Naam Hai on Zee TV.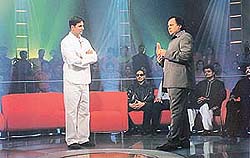 Shaikh hosting Jeena Isi Ka Naam Hai: Popular host

In his first stint on the small screen, he didn't have to stay too long as he got a big break in cinema courtesy Yash Chopra's Noorie. After that there was no looking back for this talented actor. He ruled the parallel cinema with his gentle sense of comedy and acted opposite some of the top heroines of his time, including Deepti Naval and Rekha.
Now with film offers drying up, Farouque is back in the reckoning. First on Star Plus with the slickly made. Ji Mantriji, a Yes Minister adaptation. And now as the affable host of Jeena Isi Ka Naam Hai.
Though he's done a reasonably good job, the buzz in the telly circles is that it is getting increasingly difficult to persuade celebrities to come to the show for fear of embarrassing revelations by old acquaintances who've known them before they became celebrities.
Though with his portly demeanour his career may not zoom up the Amitabh way, yet Shaikh has a high viewer acceptance and might pull off the unexpected and help Zee in regaining some of its lost popularity.
Songs sung blue
They came, they performed and they left without creating much of an impression. Despite the hype and massive publicity on Channel (V), they didn't set the world on fire as they were supposed to have done.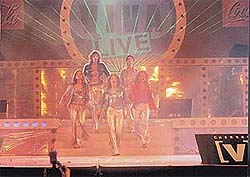 Viva! in Delhi: Something's amiss
The new all-girl group Viva! recently performed live in their first ever public concert at Delhi's Modern School grounds. They sang six songs from their eponymously titled debut album but contrary to expectations, there was nothing electric except the mild lightning in the sky.
Nothing wrong with their style of singing or their attire. The fault lies in the music. Except for Shankar-Ahsaan-Loy's Hum Naye Geet Sunaye, the fire seems to have gone out of some of the most gifted music directors of the film industry. None else has been able to give a peppy tempo to the songs.
But it may yet be too premature for rival music channels to gloat. The girls are looking and sounding great and given the reach of channel (V) it won't be long before they come up with a massive hit.
Nirvana on TV
Back in the eighties, when Ramayana and Mahabharat brought streets, shops and even government machinery to a halt, media pundits were not surprised. Religion, they knew, was not only the 'opium of the masses', it also emanated the sweet smell of moolah.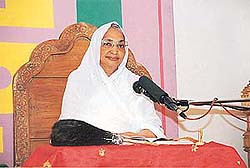 Religious channels have made stars of godmen and women

Now religion is no longer found just in temples and churches. It comes packaged on 24-hour satellite channels. Aastha from Indore and Sanskar from Mumbai both claim to have a viewership which is they envy of any channel.
And they have made stars of godmen. Some popular names include Asaram Bapu, Murari Bapu, whose USP is his musical rendition of the Ramayana, and Kirit Bhai, who enthralls with his Bhagvatam lectures and the earthy Guru Ma Harpreet.
Aastha has now stolen a march over others with a 9-day prayer ceremony in Mauritius for world peace. The entire ceremony has been broadcast live to 156 countries and was done with the enthusiastic support of the Mauritian Prime Minister, Anirudh Jagannath.
Earlier the appeal of these channels was confined to small towns and villages. But now it not just encompasses India but all other countries where there's an Indian diaspora.
And why not? In today's angst-ridden world, therapeutic value of devotional channels is fast becoming the new mantra— almost nirvana in its purest form.
New frontiers
There is serious crisis of another kind brewing up between India and Pakistan. With the All Pakistan Cable Operators Association deciding to black out Indian TV channels, the common Pakistani fed on Indian soaps is having major withdrawal symptoms.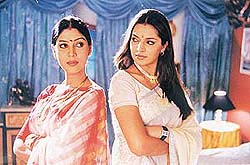 Kahani Ghar Ghar Ki: High viewership in Pakistan

To make up for the loss cable operators are said to be beaming entertainment channels from Gulf countries, but Pakistanis are missing the saas-bahu stuff which had entire families glued to the small screen.
Worse, most viewers are said to be sorely missing movie channels as they have to resort to the black market for Bollywood CDs. The Indian side too has been hit as the Pakistan Advertising Association has banned ads on Indian channels.
According to a Pakistani news report, shows that are being missed the most are Hubahu, Sanjivani, Kyunki Saas Bhi Kabhi Bahu Thi and Kahani Ghar Ghar Ki. Though there is a long list, these four seem the most popular. A Pakistani sums it up appropriately when he says," tensions between the two countries have now started hitting the common man!"
Virtual quiz
This is a perilous journey of thrills and frills. An exciting television quiz show that takes participants virtually a journey of the globe. The contestants are people who love travel and adventure and know their geography too.
On Saturday, June 29 at 6 p.m., National Geographic Channel will host National Geo-Genius where some of Britain's brightest people will take part in this unique 'battle of the brains.'
Host Juliet Morris will fire rapid questions to four contestants who take part in this fast paced quiz answering queries about the world in which we live. Using the earth as a racetrack, contestants will be challenged on their knowledge of the countries as they pass on a virtual expedition of the globe.
As the participants 'travel' distant lands they accumulate air miles (as points). The one with the highest air miles wins the quiz which translates into an all-expenses-paid trip of a lifetime to a dream destination.
So pack up your virtual travel bags and get set for cyber tour passing through some of the most exciting destinations of the world.
— Mukesh Khosla