Garlic 4-5 pods
Ginger 1 piece
Turmeric 1/2 tsp
Cheese grated 2 tbs
Finely chopped 1 tbsp
coriander
Salt to taste
Butter to apply
Method:
Crush chillies and garlic and mix all ingredients except bread and butter. Cut bread — any uneven side of bread, so that one brown slices matches one white slice. Apply butter on the inner side of each slice. Place some potato mixture on white slice. Cover with brown slice. Press into a preheated sandwich toaster. Toast very light. Serve hot with ketchup.
Grilled open sandwiches
Ingredients
Sandwich bread 6-7 slices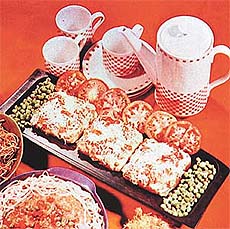 Grilled open sandwiches
Cucumber 1 small
Tomato (sliced 1
into thin rounds0
Potato 1(boiled and
sliced)
Capsicum 1
Onion 1
Chicken sausages 200 gm
Salad leaves 2-3
Mix together:
Tomato ketchup 2 tbsp
Crushed red chilli 1/2 tsp
Finely chopped 1/2 tsp
mint leaves
Garliic 1/2 tsp
Coriander 1/2 tsp
Cheese 2-3 cubes
Butter to apply
Method:
Apply some butter on both sides of bread slices. Arrange on an oven mesh-tray. Apply some ketchup mixture on each. Leaving some sauce behind to top. Arrange first salad leaves, then onion, potato, tomato capsicum and cucumber slices. Lightly boil sausages and cut into small rounds and place on top. Top with thin slivers of cheese and finally dot with ketchup mixture.
Preheat oven to 300 degree Celsius. Grill the sandwiches till the bread get toasted and cheese melts well. Cut into triangles with pizza cutter serve hot.
Chilled pinwheel
sandwiches
Ingredients
Soft uncut bread 1 loaf
Green chutney 1 tbsp
Cheese grated 2 tbsp
Tomato ketchup 2 tbsp
Mixture of onions, 1 cup
tomatoes and
cucumber
Butter
Method:
Cut the bread loaf into long rectangles by cutting horizontally. Hold each slice over boiling water for a few seconds to soften. Press lightly with a rolling pin on a work surface. Apply butter, then chutney on each slice. Sprinkle the vegetable mixture all over. Sprinkle cheese over it.
Carefully roll from on end towards the other as tightly as possible, without breaking the bread. Secure with toothpicks if required to hold. Wrap in aluminium foil or moist cloth and chill rolls for an hour in the fridge. Remove toothpicks, cut into 1/2 circles and serve with spicy tomato sauce and french fries.
Variation: These can also be made with jam and marmalade.
Bun boats
Ingredients
Round plain buns 6 medium
Grated cheese 2 tbsp
Salad leaves 2 tbsp
finely chopped
Butter 1 tbsp
For filling:
Carrot grated 1
Spring onion 1
with greens
finely chopped
Potato parboiled
grated 1
Cabbage 1/2 cup
finely shredded
Milk 1/2 cup
Plain flour 2 tbsp.
Butter 1 tbsp.
Grated cheese 2 tbsp
Salt & pepper to taste
Method
Cut horizontally, top 2" wide rounds of buns. Cut these rounds into half rounds. Butter and keep aside.
Scrape out inside of lower sections of buns, keeping a thick wall all over.
Brush with butter and keep aside.
For stuffing:
Heat butter in a non stick pan, add all veggies and stir fry for 2 minutes. Add milk, salt, pepper and bring to a boil. Mix plain flour in 1/4 cup water, add to mixture, and stir till boil is resumed. Add bun scrapings, cheese, check for taste.
Cook till mixture is thick enough to spoon into buns. Cool
Fill hollow buns with mixture. Heat tawa over gas. Place buns, filling side down, and cook on low till surface of filling is golden. Invert. Take off fire. Cook top half rounds also till flat sides are golden. Take off fire.
Place the bottom bun on individual plate. Sprinkle some cheese and salad leaves on top.
Take two half rounds, press the straight edges down in the middle of bun.They should look like two wings in the middle of the filling.
Serve hot with ketchup and fries.
Note:
Prepare filled buns much in advance and refrigerate. Griddle them just before serving and add the garnish.
Cocktail hotdogs
Ingredients
Hotdog rolls 6
Butter 1 tbsp
Mozarella cheese 1/2 cup
Thinly sliced:
Carrot 1
Radish 1
Cucumber 1
Onions 2
Potatoes parboiled 2
Beetroot 1
Eggplant 1
Tomato 1
For marinating:
Lemon juice 1 tbsp.
White vinegar 1 tbsp
Pepper powder 1 tsp
Dill leaves 1/2 tsp.
(finely chopped)
Sugar 1/2 tsp.
Olive oil 1 tsp
Green chilli 1
Salt to taste
Method:
Mix all ingredients for marinade, keep aside. Chop green chilli finely. Arrange vegetable slices except forbeetroot, brinjal and tomatoes in rows in a tray. Pour marinade over all veggies except tomatoes.
Keep aside for 2 hours.
Slit hotdogs into horizontal halves. Place lower halves together, brush with a little butter.
Arrange all veggies in layers on these, including tomatoes.
Sprinkle grated cheese over veggies.
Brush the other halves also with butter.
On a baking sheet, arrange the lower halves and uppers side by side. Bake in a hot oven for 5 minutes or till cheese has melted.
Dot veggies with ketchup, place back upper half over cheese.
Serve hot with fries, ketchup and coke.
These rolls can be foiled cooked or directly cooked on a bar-b-que mesh, but tie a string so the veggies cheese do not fall out. Another option is to bar-b-que the veggies first and then put them in the rolls.