Sunday, June 23, 2002

VIP Toon Tales
Lee Kuan Yew
by Ranga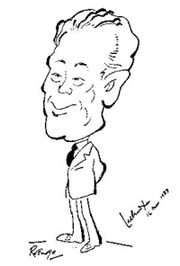 LEE Kuan Yew who remained Prime Minister of Singapore for 31 years has entered the Guinness Book of Records for being the longest-serving Prime Minister elected democratically in succession for three decades.
During his long and uninterrupted innings as the Prime Minister of Singapore Lee, who occupies a unique place among the celebrities of the world, was in Delhi in 1988 on an official visit.
He had talks with the leaders of the Indian Government and signed a number of bilateral agreements, including some on trade and culture.
During his short stay Lee showed a good deal of interest in the architectural beauty of Delhi and visited some places of architectural interest. On one of his visit around Delhi, I was able to meet him with this sketch of his which he was pleased to acknowledge with an autograph on it.