Monday, June 24, 2002, Chandigarh, India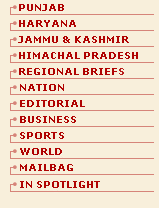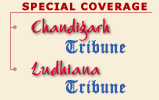 Fire in LPG godown; six hurt
Mullanpur-Garibdas (Kharar), June 23
Six labourers sustained burn injuries when a fire broke out in an unauthorised LPG cylinder godown in Mullanpur-Garibdas village last night. Five of the victims with serious burn injuries are being treated at PGI, Chandigarh, while one of the injured was discharged this morning.
27 law graduates booked
Chandigarh, June 23
The Chandigarh Police has booked 27 law graduates, whose degrees were found to be ''fake'' by the Punjab and Haryana Bar Council recently. The "fake" graduates have been booked for alleged forgery and cheating by the Chandigarh Police after the bar council had submitted a list of 27 students to the Senior Superintendent of Police, Mr Parag Jain, for the registration of a case against them. Chandigarh Tribune had exposed the fake degree racket taken up for investigation by the bar council on May 13.
PWD-BSNL row snowballs
Chandigarh, June 23
A dispute between the PWD and Bharat Sanchar Nigam Ltd over the payment of cash for shifting of telephone poles and underground cables has taken a new turn with both blaming each other.
VC asks English Dept to probe 'unfair results'
June 23, 2002
Results: English students cry foul
June 22, 2002
City to have 3 new sewage plants
June 21, 2002
Admission hassles in store for students at PU
June 20, 2002
City to have third industrial area
June 19, 2002
Warden out; 'fast' attack still on
June 18, 2002
New Mohali hospital block functional
June 17, 2002
10 school board officials in vigilance net
June 16, 2002
PUDA plots transfer allowed till June 30
June 15, 2002
MC order on removal of building material
June 14, 2002
UT Admn sits on its order for 41 yrs
June 13, 2002