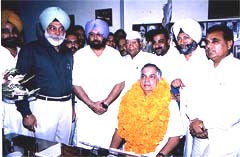 Punjab Speaker Kewal Krishan and Chief Minister Amarinder Singh congratulate Mr Darbari Lal, who was elected Deputy Speaker on Wednesday.
Darbari Lal elected Deputy Speaker
Chandigarh, June 26
Prof Darbari Lal, a senior Congress legislator from Amritsar, was unanimously elected Deputy Speaker of the Punjab Vidhan Sabha today. Born in Gujarat, now in Pakistan, in 1942, Prof Darbari Lal migrated to Amritsar in 1947.
Cabinet berth on seniority: CM
Chandigarh, June 26
Seniority as party MLA in the state Assembly will be the main criterion for inducting fresh faces in the Council of Ministers in Punjab.
Seized rice rotting in FCI godowns
Bathinda, June 26
Even as the work of exporting rice has come to a complete halt in Mansa and Bathinda districts after a rice scam in the Food Corporation of India came to light in the city on June 18, rice worth lakhs of rupees lying in many trucks detained at its godown here has started to rot.
Woes of procurement agencies
Ferozepore, June 26
Less movement of stock, lack of adequate staff, heavy political pressure during the time of procurement, unfavourable atmospheric conditions and sometimes even negligence in duty are the major reasons for huge stocks of foodgrains rotting in Punjab, the food basket of India.

Index page:
Ravi Sidhu granted bail
Ropar, June 26
Mr Maghar Khan, Sessions Judge, today granted bail to the suspended PPSC Chairman Ravinder Pal Singh Sidhu in a case registered against him by the Vigilance Bureau under the Prevention of Corruption Act.



Ravi Sidhu files revision plea
Shun liquor in DSGMC poll: Akal Takht
Amritsar, June 26
The Jathedar of Akal Takht, Giani Joginder Singh Vedanti, today issued a fresh directive to the candidates of the Delhi Sikh Gurdwara Management Committee elections against the distribution of liquor or any intoxicants during the elections.
Cong goes back on poll vows: SAD
Phagwara, June 26
Repeatedly addressing the Congress government as "zalam sarkar" (cruel government), a former Punjab Finance Minister and Secretary-General, Capt Kanwaljit Singh, today declared that Akalis were determined to make any sacrifice for justice and rights of the state.
Left convention on July 6
Ropar, June 26
With a view to counter the alleged "anti-people" policies of the Punjab Government leaders of the All-India Forward Bloc, CPM (Pasla group), MCPI, and the CPI (ML) to hold a joint convention on July 6 at Desh Bhagat Yadgar Hall, Jalandhar.


Tough job ahead for Mayors
Amritsar, June 26
Even as Chief Minister Amarinder Singh promises a clean government, the Mayors have a challenging job in all four corporations in the state. Blatant encroachments on footpaths, parks, government land, and even road dividers are adding to the woes of the public.
Power tariff hits marriage palaces
Bathinda, June 26
Marriage palaces of the city have started closing down allegedly due to the "faulty" power tariff structure of the cash-starved Punjab State Electricity Board. About one-third of them have already closed down or also started holding exhibitions to keep them afloat.
Manhunt launched to catch 'Mama'
Pathankot, June 26
The police has launched a manhunt to catch Satish Kumar, alias "Mama" who continues to give the slip to the police and judiciary. The police has sealed his hotel Shivani and palatial house even as he has fled along with his family since the registration of a fresh FIR.
Govt 'forgets' martyr
Ropar, June 26
Resentment prevails among members of the family of a martyr, Pargan Singh, of Anandpur Sahib against the district administration and the state government for "ignoring" his sacrifice.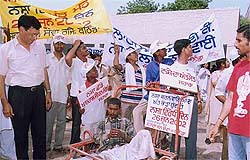 Dr S. L. Goyal, Civil Surgeon, flags off a rally of volunteers against drugs on the occasion of World De-addiction Day at Bathinda on Wednesday. — Tribune photo Kulbir Beera
Seminars mark de-addiction day
Amritsar, June 26
The district Health Department today organised a seminar in the Central Jail and two other slum areas of the city on the occasion of World De-addiction Day. Dr K.K. Sharma, Civil Surgeon, here said about 7 lakh persons died of drug addiction every year.

Ex-addicts preach de-addiction

Arrest illegal, says Mohali
SAS Nagar, June 26
The senior vice-president of the Ropar unit of the SAD and local municipal councillor, Mr Amrik Singh Mohali, today described his arrest by the Punjab Vigilance Bureau as illegal and said it smacked of revenge by the Congress government against SAD supporters.
Notice to govt on Kehar's bail plea
Ropar, June 26
Mr Maghar Khan, Sessions Judge, today issued notice to the state government for June 28 on the anticipatory bail application of Dr Kehar Singh, Chairman, Punjab School Education Board, SAS Nagar, against whom the Vigilance Bureau registered a case under Sections 420, 467, 468, 471 and 120-B of the IPC and various provisions of the Prevention of Corruption Act 1988 on June 14 at SAS Nagar.
Coal crisis in thermal plants
Ropar, June 26
A hand-to-mouth situation has arisen at the Ropar and Bathinda thermal plants as coal in their stocks is reportedly just enough to generate power with all units for only four to five days.
HIGH COURT
Apology
Chandigarh, June 26
In less than a fortnight after a warrant officer appointed by the Punjab and Haryana High Court was allegedly assaulted by Punjab Vigilance Bureau officials, Mr Justice Ashutosh Mohunta on Wednesday accepted their unconditional apology.
'Issue' guidelines to non-allopathic docs
Ropar, June 26
The Punjab unit of the Indian Medical Association has asked the state government to issue strict guidelines to medical practitioners of other systems of medicine like ayurvedic and Unani not to practice allopathy.
2 sisters, cousin commit suicide
Abohar, June 26
A case under Section 306, IPC, has been registered in connection with the suicide by two sisters and their cousin. Sources said Maya and her younger sister Santosh along with Mohinder Kumar, alias Sat Narain, were found dead in a field outside Choohriwala Dhanna village last afternoon.
Encroachers warned
Gurdaspur, June 26
Where the municipal authorities have failed to remove encroachments in the city, the police has taken the task in its hand. Mr B.K. Uppal, SSP, talking to newspersons here today said shopkeepers and rehriwalas had been issued notices to remove encroachments by tomorrow or face police action.


SDO arrested on bribe charge
Bathinda, June 26
Mr Surinder Mohan Taneja, Sub-Divisional Officer, Telephones, Sardulgarh (Mansa), was caught red-handed by a Vigilance Bureau team, headed by DSP Gurmail Singh, while accepting Rs 1,500 from Mr Kulwant Singh of Jhanda Khurd village for releasing his telephone connection.
Student ends life
Phagwara, June 26
Failure in the matriculation examination proved fatal for a teenaged boy of Baba Gadhia mohalla, yesterday.


B.Sc (IT) part II results today
Amritsar, June 26
The results of B.Sc (IT) part II held by Guru Nanak Dev University will be declared tomorrow. The results can be accessed on the university website "gnduonline.org" after 5 pm tomorrow.
Big response to PTU's course
Chandigarh, June 26
Enrolment for the B.Sc (computer science and technology) programme launched last year by Punjab Technical University is likely to touch 4000 as the course has received a tremendous response from students.


Withdraw road toll, say traders
Amritsar, June 26
The Punjab Pradesh Beopar Mandal has urged the Prime Minister, Mr Atal Behari Vajpayee, to order the National Highway Authority of India to withdraw the notification regarding imposition of toll on those travelling between Delhi and Amritsar.