The Deputy Commissioner who was the chief guest had his policemen block the small exit for others till he got out and drove away not to be seen again. The small exit was strewn with corpses of children clinging to their mothers. By the time the lathi-wielding policemen left, it was too late. Later, the administration made the usual noises, announcing relief to the victims and punishment to the guilty, which included no one in the administration.
Gurtej, who has all this etched in his memory indelibly, narrates the tragedy and its aftermath in vivid terms. He recalls how the town was first petrified by the ghastly event, then slowly recovered from the shock and resumed its day-to-day activity. He begins the book with a long discourse on human tragedies, natural as well as man-made. He maintains that natural calamities come from the cause-and-effect system of nature and from the interaction of the forces of creation, sustenance, and destruction. Man-made tragedies, to which the Dabwali fire belongs, he attributes to human lust, callousness and avarice. These can at least be minimised, he philosophises, if man changes his attitude towards life and learns from his errors.
He devotes the last part of the book to his biographical details, his modest background and his efforts to rebuild his life from the ruins of December 23, 1995. But the most poignant part is the one that describes the fire and its aftermath. It comes from the core of a lacerated heart.
Encountering Bliss
by Melita Maschmann; Motilal Banarsidass Publishers, Delhi; Pages 277; Rs 195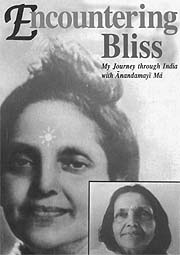 A former Nazi functionary disagreed with the establishment and left Germany to settle in Afghanistan as a journalist. This journalist, Melita Maschmann, came to India on her way back to Germany in 1962, and ran into Ma Anandmayi, an encounter that changed her life, and after travelling to different places with Anandamayi, she decided to make India her home.
This book which is a kind of a diary of her travels with this woman saint of India has been rendered into English by Shridhar B. Shrotri who has taught German at Karnatak University, Dharwad. It is an account, not of an inquisitive journalist but of an ardent disciple, full of admiration and reverence.
The book contains a sketch of Ma Anandamayi's life, describing her capacity to work miracles, to render her body insensitive to pain, to abstain from food for long periods, to appear somewhere without actually being there, and so on. It also records Melita Maschmann's meetings with other Indian personalities, mostly religious people, but in her quest for the ultimate truth she also encounters persons like Mother Teresa, Railhana Tyabji, an associate of Gandhiji, and Tibetan lamas at Bodh Gaya, and watches Buddhist ceremonies at the monastery. At the end of it all, the German journalist draws the conclusion that the ultimate answer has to come from within.