Laughter on the cards!
Itís a pure sequence! Ekka Begum Badshah Saturdays on DD Metro at 7.30 p.m. deals out a pack of laughter. Each episode features a new situation with three central characters.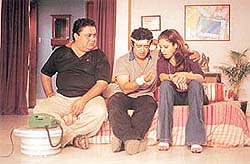 Ekka Begum Badshah: Laughing sequence

Manoj Pahwa dons the role of Ekka [the ace]. He is supported by Tanaz Currim, the Begum and Ninad Kamath , the Badshah.
Ekka and Badshah are great friends both smitten by the Begum. The trouble is she has a totally different agenda in life and is using them both with her flirtatious overtures and worse, they donít realise they are being used.
The Begum not only plays hard to get but also makes clever use of her feminine charms to manipulate her two suitors. Of the two, the Badshah is head over heels in love with the Begum, but always ends up losing out to Ekka.
A good effort at comedy interspersed with songs. Though not exactly rip-roaring, itís a half hour of mild entertainment.
Indian face of CNN
With its efforts to go truly Hindustani for its burgeoning Indian viewership after September 11, CNN has added yet another name to the growing list of Indian origin news anchors. After Satindra Bindra, Monita Rajpal and Zain Verjee it is Daljit Dhaliwal who will anchor the networkís signature World News and World Report.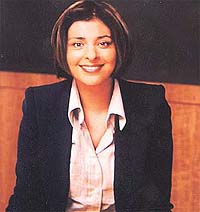 CNNís Daljit Dhaliwal: Wooing India

"Daljitís journalistic skills and her on-screen presence reaffirm CNNís commitment to a diverse anchor base," says executive vice-president Rena Golden. Previously, Daljit Dhaliwal anchored ITNís World News for Public Television, a popular channel in the USA.
In addition, she co-anchored Britainís primetime Channel Four News and served as a senior anchor on ITNís 24-hour news channel.
As a broadcast anchor, Daljit has reported on a number of major international news stories of the last eight years. She has interviewed such notable political leaders as Pakistanís Benazir Bhutto and Palestineís Yasser Arafat.
The high point of her life came in 1999 when she was named one of People magazineís "50 Most Beautiful People in the World" and was also listed in Esquire Magazineís "Women We Love." But her true test will come when Indian viewers include her in their list of TV women they love.
Reality bytes
It was an idea that had to spawn clones. Indiaís Most Wanted started a trend that has been followed by reality shows like Kahani Jurm Ki, Haqeeqat and Bhawandar with a spot of cosmetic changes.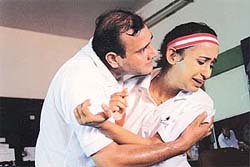 Scene from Haqeeqat: Bringing cops to book

But despite being look-alikes some of these true life crime capers have been doing exceedingly well. Haqeeqat every Tuesday 8.30 p.m. on Sahara TV is a case in point. The show based on stories of human rights violations and police atrocities has been boldly naming names and calling a spade a spade.
The short stories are dramatised versions of cop-related violence against the common man. Presented by Mahesh Bhatt, cases range from child abuse, immoral traffic, dowry deaths, domestic violence and several other crimes perpetrated by the police.
Nobody was surprised at the RAPA prize night when Haqeeqat bagged the best direction award. Said Anuradha Prasad of BAG Films, "We are doing several shows for different channels but none gives us as much satisfaction as Haqeeqat."
With their image already dented, the cops are obviously unhappy with a show that is out to expose their misdeeds. But viewers seem a happy lot. The guilty are being shown the high road to justice ó at least on the screen.
Saintly tales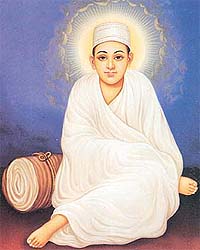 Sant Daadu: Wide appeal
For the devout, the season of Gods never ends on television. Even as religious epics continue to crowd the small screen, there is a queue of smaller gods and godmen waiting in the wings.
Sant Daadu is a case in point. Though the docudrama on the great saintís life was aired on Aastha Channel on June 2, it is now being made into a serial for Doordarshan.
For the uninitiated, Sant Daadu was one of the handful of saints who influenced Akbar so much that the Mughal emperor ordered a ban on cow slaughter and gave him the title of the angel of Allah. Over the years, the saint built a steady following of both Hindus and Muslims.
Though there are hundreds of stories of the miracles performed by Sant Daadu, the producers are concentrating more on the theme of universal brotherhood espoused by the great saint.
Sant Daadu, who is ironically still worshipped both by Hindus and Muslims in Gujarat, has become most relevant in the state which has seen a spate of communal violence. His appeal like that of Sant Kabir cuts across religious barriers.
Mumís the word
The producers warn you this is a quirky and disturbing series. What they donít tell you is that it is also occasionally shocking.
Mummies In Shades, June 30, 9 p.m. on the National Geographic Channels, is a grisly account of a naturally mummified monk who is amazingly well preserved without embalming and without any anti-decaying preservatives.
This natural mummy is a major tourist attraction on the Island of Ko Samui off the coast of Thailand. The monk sits in the same meditative pose heís held for decades. A miracle? Perhaps. His body was not prepared, not preserved with chemicals, not eviscerated or coated with arsenic.
Tourists look in awe at the veins showing through his skin. Some claim his hair and nails are still growing. What is known for sure is that heís a mummy. And, of all the things, he is wearing sunglasses!
Legend has it that the Abbot of Khunaram Temple achieved a Zen state of meditation with the intention of naturally preserving his body.
The anchor of the show, Ron Becket and Jerry Conlogue will try to discover what in Buddhist tradition led the monk to achieve what appears to be lasting preservation of the body. Not the best of sights but if you tune in chances are youíll be hooked start to finish.
ó Mukesh Khosla