Sunday, June 30, 2002
Books
A teller of tales
Punam Khaira Sidhu
A Pair of Mustachios
by Mulk Raj Anand, Orient Paperbacks. Pages 110, Rs 95.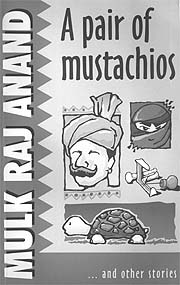 THINK Indian writers writing in English and the two enduring names from the 1930s whose books are still in print are Mulk Raj Anand and R.K. Narayan. Their works have been translated into several languages.
Born in Peshawar in 1905, Mulk Raj Anand's was educated in Lahore, London and Cambridge. He lived in England for several years. What could also be of interest to readers is that Mulk Raj Anand held the prestigious Tagore Chair at Panjab University, Chandigarh.
At the age of 30, he began his most prolific period. He wrote the Untouchable (1935), followed by Coolie (1936), Two Leaves and a Bud (1937) and then the adventures of Lalu Singh, a young Sikh during World War I, in the trilogy: The Village (1939), Across the Black Waters (1940), and The Sword and the Sickle (1942). It was a richly productive literary period for him. A book a year was no mean feat. The Private Life of an Indian Prince (1953), Confessions of a Lover (1972) and The Bubble (1988) were his other well-known works.