Sunday, June 30, 2002

Bridge
When defence was difficult to find
by Omar Sharif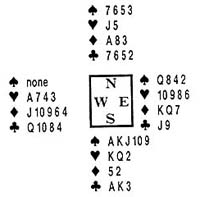 "NOT much we could do about that!" remarked West complacently after this week's deal.
Since his partner agreed, I felt that (as the successful declarer) I had little to contribute. It occurred to me, though, that there was a defence but not one that would have been at all easy to find.
As South at game all, I opened One Spade and North scraped up a raise to Two Spades. I went straight to Four Spades and all passed.
West led the Jack of Diamonds and it was clear that everything depended on drawing trumps without loss.
There was no harm in retaining dummy's entry for the moment — defenders have been known to do the wrong thing if they are left on lead long enough — but they persisted with Diamonds and I was forced to win on the table. A trump to the Ace revealed all, and the problem was to reach dummy twice in order to pick up East's Queen.
At trick four I tried a low Heart and dummy's Jack won. Then came a marked trump finesse and the King of Hearts lost to West's Ace.
He continued Diamonds but I ruffed, trumped my winning Queen of Hearts on the table and finessed again in trumps to collect ten tricks.
Well, what could the defence have done? It looks unnatural, but suppose that West had gone in with the Ace of Hearts when I had led the two.
I would have been denied a vital entry to dummy. (Equally, if I had led the King instead, West must hold off.) Then I would be bound to lose one trick in every suit.