Sunday, June 30, 2002

VIP Toon Tales
Madhavrao Scindia
by Ranga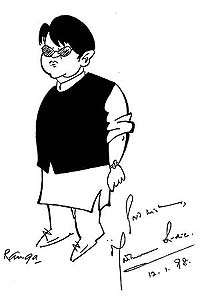 "WITH good wishes", so wrote the late Madhavrao Scindia before he affixed his signature on his picture when I happened to meet him and draw his sketch at his residence. Scindia was a minister in Rajiv Gandhi's council of ministers. He also became a minister during P.V. Narasimha Rao's Prime Ministership.
He began his political career with the Jan Sangh, the earlier version of BJP. He won his first Lok Sabha elections in 1971 from Guna in Madhya Pradesh. Scindia left the Jan Sangh during the Emergency while his mother was in jail. In the 1984 elections, he defeated Atal Behari Vajpayee from Gwalior.
A man with dynamism and grit, Scindia was also a keen sportsperson and especially loved playing cricket and polo. He also loved art and literature. His study room was packed with many art pieces, caricatures and literary collections. His promising life came to an abrupt end when he died in an aircrash.