Ultras turn jugglers to fulfil "mission"
M.L. Kak
Tribune News Service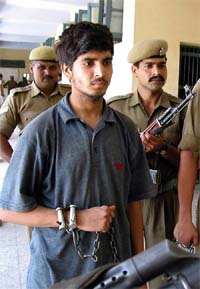 Handcuffed Zulfikar Ali is presented before newsmen in Jammu on Friday. — Reuters photo
Jammu, July 5
The place: a police station in the city. A youth in handcuffs amuses a group of newsmen with magic tricks.
From a distance a newsman is asked to write anything on a piece of paper. He writes "786". Another "scribbles" "Azhar Masood". The youth receives the folded papers looks back towards the sky and correctly deciphers what is written in the folded papers. In another minute he is able to change a currency note of one denomination to a higher denomination.
He is not a street magician. He is Zulfiqar Ali, a Pakistani and Chief of the Lashkar-e-Toiba for Jammu, who was arrested by the police a fortnight ago.
Zulfiqar has stayed in Jammu for nearly two years, trying to establish hideouts for the activists of his outfit. He reveals that top militants are taught magic tricks in training camps by some magicians, hired by the Pakistani Army Officers.
"We learn these magic tricks to escape being spotted by the police," he says. "We have been told that we should engage the crowd in small magic shows providing a chance for other activists to strike" Zulfiqar reveals.
He confesses that militants operating in Jammu and Kashmir and other states have developed a passion for the Indian movies. "I have watched more than 100 movies in theatres in my two-year stay in Jammu while in Pakistan I have not watched more than three films in seven years," is his another confession.
Zulfiqar is a fan of Sunil Shetty, Ajay Devgan and Aditya Pancholi. "I like their way of enacting fight scenes," he says adding that "I like Indian movies as there is lot of action and music which I miss in Pakistani movies."
He is also a fan of Sridevi, Madhuri Dixit, Juhi Chawla and Amisha Patel. He reveals that groups of militants operating in hilly areas tune their radio sets to listen to Bollywood songs.
And in certain places they watch the Indian films on cable channels in the houses of their supporters. "Action films teach us how to strike and find escape routes," he discloses.