Ultras kill Awami Mahaz leader
Srinagar, July 5
Unidentified gunmen shot dead a leader of the Awami Mahaz (Peoples Front) and injured two others, including its chairman, in their office here his afternoon. The police here said that militants fired upon Mr Ghulam Nabi Dar, Chairman of the Awami Mahaz, injuring him at the Chota Bazar office of the party here at about 12.30 p.m. today.
In Sports Tribune today

THE TRIBUNE MAGAZINES
On Mondays

On Sundays
On Saturdays

IN PASSING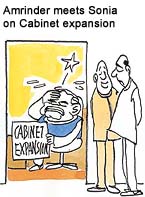 Why Soniaji alone, the Captain should have taken pointers from Atalji also!

by Sandeep Joshi
Ultras turn jugglers to fulfil "mission"
Jammu, July 5
The place: a police station in the city. A youth in handcuffs amuses a group of newsmen with magic tricks. From a distance a newsman is asked to write anything on a piece of paper. He writes "786". Another "scribbles" "Azhar Masood".
2-yr jail term for dishonour of cheques
New Delhi, July 5
The one year imprisonment for issuing cheques which bounce has now been increased to two years. This decision was taken at a Cabinet meeting here today.
BJP accuses Amarinder of selective morality
New Delhi, July 5
The Bharatiya Janata Party today took strong exception to recent transfers of certain key officials involved in investigations of cases of corruption in Punjab saying that state Chief Minister Amarinder Singh should realise that fight against corruption "cannot be carried on the basis of selective morality".



Patiala Judge to conduct inquiry
Ruchika's brother 'falsely implicated' in six cases
Chandigarh, July 5
Months after a Judge of the Punjab and Haryana High Court asked the state of Haryana and other respondents to show cause why they should not be burdened with compensation for being paid to Ruchika's brother — Ashu Girhothra — "falsely implicated" in six cases, a Division Bench of the High Court today asked Patiala's District Judge "to conduct an inquiry and submit his report to the Court expeditiously but not later than six months from the date of receiving the record".
Mamata seeks PM's intervention
July 5, 2002

PM in a bind on Mamata issue
July 4, 2002

Parleys on to rope in Mamata
July 3, 2002

Shatrughan, Jana, Verma inducted into Cabinet
July 2, 2002

Jaswant Singh to be new Finance Minister
July 1, 2002

Advani appointed Deputy PM
June 30, 2002

PM may have deputy
June 29, 2002

3 jawans die in blast on Amarnath yatra route
June 28, 2002

CBI raids Tehelka premises
June 27, 2002