History does influence the present
Gobind Thukral
PROF.GOVIND Chandra Pande is a noted historian. He has written six volumes on Asia's ancient history. For him, history is full of social, political and cultural significance. His interests are not limited to ancient or modern history; he is also a philosopher, litterateur and poet.


| | | |
| --- | --- | --- |
| | PROFILE | |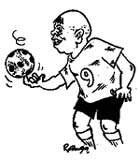 The two-goal hero's tryst with destiny
Harihar Swarup
THE first act of Brazil's World Cup hero, Ronaldo, after scoring two goals against Germany was to thank God and his physiotherapist for helping him to recover from the knee injury in time for the momentous event. French doctor, Gerard Sailtant, had reconstructed his right knee and the physiotherapist worked hard for 30 long months to put Ronaldo on his feet.


| | | |
| --- | --- | --- |
| | DELHI DURBAR | |
Pant eyeing Vice-President's post
HAVING lost out in securing a more high profile ministry in Atal Behari Vajpayee's cabinet, Planning Commission Deputy Chairman K C Pant is reportedly pitching for the post of Vice President. He is said to be seeking the good offices of Andhra Pradesh Chief Minister Nara Chandrababu Naidu to influence the top BJP leadership. This was evidenced from Mr Pant's new found enthusiasm to forge a personal equation with Mr Chandrababu Naidu.
Riding high horse

The best source

Security lapse

Advani's role

In new avatar

Captain & Sonia
| | | |
| --- | --- | --- |
| | DIVERSITIES — DELHI LETTER | |
They are the same lot, but speak in different voices
THE latest round of ministerial reshuffling has surprised even the BJP sympathisers (my sympathies with them, anyway!). What with party president Jana Krishnamurthy preferring a ministerial seat, Shatrughan Sinha manning as serious a portfolio as Health, Vinod Khanna taking care of our culture and tourism (when there's little left of it and Home Minister L K Advani getting officially upgraded to be the next prime minister or what.