Laughing show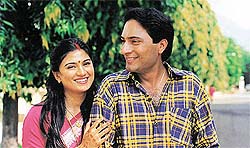 Musibat Bolkey Aayee: Laughter is not the best medicine

Hereís one more serial that promises to tickle your funny bone ó in case you have any left after jaw-breakers like Kitne Kool Hai Hum on Zee and Hum Saath Aath Hain on Star.
Musibat Bolkey Aayee every Saturday on DD Metro at 8.30 p.m., which has Paintal in the lead, is a wacky tale of falling in and out of love. Everyone in the serial keeps getting smitten by someone with disastrous consequences, that are not necessarily funny or rib-tickling.
For unfathomable reasons, the comic situations are interspersed with sequences of domestic problems and quarrel which not only break the tempo but also take the laugh out of whatever little element of comedy there is in the serial.
It is the story of a couple and extended family where falling in love is routine everyday situation. The serial is being billed by its producers as the comedy which will out-laugh all comedies. Who has the last out-laugh remains to be seen!
Krishna meets Arjun
It first happened with Zeeís Neelamghar Bid Bid Boom which went in for a new team of directors, new set designers, new co-host and even new timing. Now Krishna Sharma C.A. on Star Plus Mondays, 8 pm, too has gone in for a complete makeover.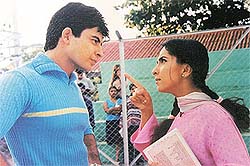 Krishna Arjun: Break from the past
The Sharaddha Nigam-starring serial now comes in a new format with a change not just in title but also concept and show packaging. Krishna Sharma is not alone in her crusades any more. She has been joined by Arjun (Hussain) and together they make an investigative team, a la Remington Steele.
Both Krishna and Arjun may not see eye to eye on anything, yet they are thrown together to solve some of the most difficult cases. They hate each otherís guts but when it comes to investigation, thereís none to beat the twosome.
Though they are constantly bickering, thereís an unusual chemistry that draws them close. Each investigative story is spread over two to three episodes.
The new series, now titled Krishna Arjun, is a complete break from the past. And unlike Neelamghar the new look seems for the better ó fast paced, stylised and eminently viewable.
One from the heart
Heís a man who has been labelled a rabble rouser of popular music. Some call him a blatant plagiarist while few think he is the most gifted music directors Bollywood has ever seen after R.D. Burman.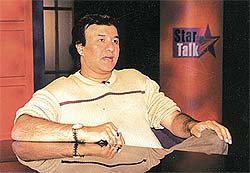 Anu Malik on Star talk: Straight from the hip

Love him or hate him, Anu Malik is a stormy petrel of music whose ego matches his wallet. Despite a burst of talent in the film industry he remains one of the most gifted and in-demand music directors.
And the man can speak his mind as was evident recently on Star Talk when Vir Sanghvi quizzed him Does he plagiarise? "Except God, no one is original. Everyone is inspired. Itís not plagiarism itís called mixing." On Alisha Chinaiís harassment charge against him, he reverted to the Lord again. She has to answer to God. You can be pardoned for a lot of sins but you can never be pardoned for a wrong allegation. She has to live with it."
What does the industry think of him ?" During the shooting of Border J.P. Dutta took me to the side and said, ĎAnu, a man who can compose sandese aate hai, can do anything.í Javed Saab once said that I can make music even out of a telephone directory."
Modesty may not be one of Anu Malikís great qualities. But then, as a gifted music director he has no reason to be self-effacing.
No show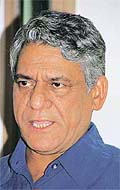 Biographies: Ek Kalakar Ki Kahani: The final solution.

Is there anyone in charge here ? For a show that has so much potential and is hosted by a celebrity no less than Om Puri it sure is not getting its due.
Biographies: Ek Kalakar Ki Kahani, Fridays at 8.30 p.m on Sony Max is an engrossing series in which Om Puri brings you the legends of Bollywood from actors to singers and directors, enlightening insights into the various facets of their excellent work. Evidently, a great deal of research has gone into this series.
Each episode, says Om Puri, is a labour of love. True it is. But then, It attracts very few viewers as the timing is all wrong. Few viewers would want to switch on their sets for a lowdown on an actor and his or her craft.
The producers are lucky to have Puri as host. If it goes on prime time it would definitely garner respectable ratings given its inherent appeal to an older generation of viewers.
Pop(eye) goes the show
Cartoon Network gives viewers one more compelling reason to stay indoors this summer. The channel is spicing things up with The All New Popeye Show weekdays 6 p.m. that follows the zany adventures of Popeye, the spinach-powered sailor and his looney pals.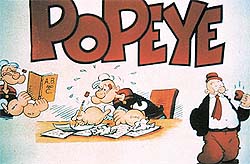 The All New Popeye Show: Summer fun
Popeye made his first public appearance on January 17, 1929, in Elzie Segarís comic strip, Thimble Theatre. Although he was introduced as a minor character, he quickly muscled his way into the limelight and eclipsed others to become the big star.
Four years later, he became the star of a cartoon series and made his debut in 1933 as Popeye the Sailor. This unpretentious hero has captured the hearts and imaginations of countless fans who have grown up admiring him since his introduction in 1929.
So stay tuned to Cartoon Network to follow the escapades of Popeye as he tries to win the affections of his lanky ladylove, Olive Oyl and ward off the evil designs of arch enemy Bluto.
ó Mukesh Khosla