Blurred picture
When the new Director-General of Doordarshan S. Y. Quraishi says he is concerned about the poor quality of DD signals reaching viewers through cable networks, he surely has a point. And proof of that is Salakhon Ke Peeche every Thursday at 10.30 p.m. on DD-I.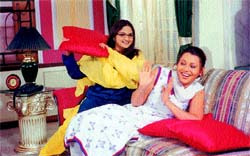 Salakhon ke Peeche: Good show, poor signals

An excellent serial about women serving jail sentences, it delves into the reasons why gentle women more attuned to the role of wives and mothers can turn into criminals.
The serial is interwoven in the main plot revolving around the life of journalist Niyati who scans the life stories of these women which she wants to compile in book form.
Niyati is a firebrand columnist working for a well-known womenís magazine. Her column Aakhiri Khat is so widely read and appreciated that she decides to dedicate her life for uplift of these women.
The theme is good, the narrative racy and the performances steller. But the transmission quality is so poor for viewers getting their feed from cable operators that it mars the show. Surely Indiaís largest public broadcaster can coerce cable networks to provide better reception for DD. Thatís the least it owes to its viewers.
Date with God
Itís prayer time once again on the small screen. Star Plus is leading the race with religious shows every Sunday morning.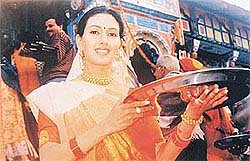 Deepti Bhatnagar in Yatra: Religious journey

Starting 9 a.m. for the devotees of Mata Bhubaneshwari thereís Jai Mata Ki, Hema Malini in the role of the Goddess and her different avtaars like Durga, Saraswati, Laxmi, Vaishno Devi, Gauri and Jagdamba.
The serial has been shot in Katra, from where the journey to Vaishnodevi temple begins. It also marks the debut of Hema Malini on satellite TV.
If you are still on a religious trip, tune in again on Star Plus at 10 a.m. and sit back to enjoy Yatra which takes viewers to various pilgrim centres in India.
Produced, directed and hosted by Deepti Bhatnagar, Yatra is a devotional journey through Indiaís pilgrimages representing a mosaic of religion. It gives viewers a glimpse of the deep-rooted belief, faith that drives Indians to acknowledge and respect the multi-religious heritage and culture.
Could there be a better way to start the day ó a date with God ó Sunday Ke Sunday!
Funny in parts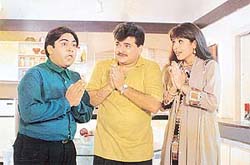 Scene from Aisa Bhi Hota Hai: No laughing matter

Back in the eighties, when the curtain started going up on soaps with Hum Log and Buniyaad, a team of two young writers, Ashok Patole and Rakesh Chaudhary came up with a couple of excellent comedies ó Bante Bigadte and later, Shriman Shrimati.
Now over a decade and a half later, the two are back again with Aisa Bhi Hota Hai, Wednesdays 7.30 p.m. on DD-Metro. But it must be the sign of the times that this one does not measure up to the two earlier comedies of this creative duo.
While both Bante Bigadte and Shriman Shrimati had a certain anecdotal appeal and were peppered with situational comedy, this oneís all about making funny faces and landing in ludicrous situations.
Though there are some funny parts thanks mainly to good performances by Ajit Vachani, Tanaz Currim and Shobha Khote, these are spread so thin that they do little for the serial making it a perfect half-laugh comedy.
Cheer leader
At a time when his career looked poised to go places, Hussain seems to have struck a road block. The star of hit serials like Aashirwad, Kangan and Sarhadein is now seen as a third anchor in the top-rated karaoke show Kisme Kitna Hai Dam Thursday at 9 p.m. on Star Plus.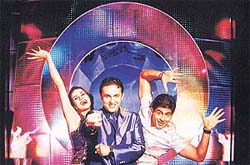 Hussain (right), Panang and Nigam in Kisme Kitna Hai Dam

Hussain, along with former Miss India Gul Panang, seems content cheering the boisterous crowd even as Sonu Nigam presides over the show.
"Itís a fabulous learning experience. Sonu Nigam is a big artist and I donít mind being a co-anchor. Itís great to be in the same show with him," gushes the budding TV star whoís also doing the role of Chirag in Kyunki Saas Bhi Kabhie Bahu Thi.
Hussain dreams of making it big in Bollywood though he says he first needs to prove himself as an actor on television to get some worthwhile offers from the big screen. But whether the role of a co-anchor will push his case further remains to be seen.
Flying White House
Air Force One. The name spells power. And why not? Air Force One is no ordinary plane. It belongs to one of the most powerful men on earth ó the President of the United States of America.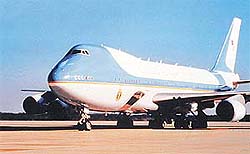 Air Force One: Power behind the flying machine

Ever wondered what kind of plane this is? Hereís your chance to go behind the doors and inside the cockpit of the most famous and secret plane in America.
National Geographic Channel gains unprecedented access to the plane, taking viewers behind-the-scenes onboard Air Force One on Monday, July 15, at 9 p.m.
Equipped with sophisticated communications and security systems, conference rooms, staterooms, a presidential suite, televisions, computers, paper shredders and protected from nuclear explosions, Air Force One is a one-of-a-kind flying machine.
This amazing aircraft shuttles the US President across nations as a symbol of the free world, yet its inner workings have remained a closely guarded secret. With exclusive access to the plane, its hangar and the people who make it fly, the show captures revealing moments with former Presidents Bill Clinton and George Bush.
Besides revealing never-before footage of the plane in flight, the programme shares stories and anecdotes remembered by the pilots, engineers and stewards who serve the President of the USA aboard Air Force One. Engrossing from the word go.
ó Mukesh Khosla