Hyderabad (Pakistan), July 15
Two and a half years after his release by India to end the hijacking of an Indian Airlines plane, Ahmed Omar Saeed Sheikh was today sentenced to death by a Pakistani court for the kidnapping and killing of US journalist Daniel Pearl.
Sheikh Omar, 27, whose three accomplices were awarded life imprisonment by Judge Ali Ashraf Shah in the heavily fortified makeshift court in the jail here, reacted defiantly to the verdict, saying that he would retaliate against the authorities for "arranging" the sentence.
After a three-month trial, the anti-terrorism court Judge found Sheikh Omar, Salman Saquib, Fahad Nasim and Sheikh Adil guilty of killing Pearl, 38, the Mumbai-based South Asia correspondent for the Wall Street Journal.
The defence team said it would appeal against the ruling in the Sindh High Court and the Supreme Court if necessary before the sentence was carried out. Execution in Pakistan is usually by hanging.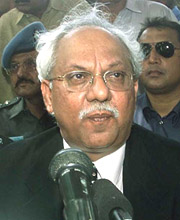 Raja Qureshi, chief prosecutor in the Daniel Pearl case, speaks to reporters inside the grounds of the central jail in Hyderabad.
— Reuters photo
In a message read out by his lawyer, Sheikh Omar said: "We shall see who will die first. Either I or the authorities who have arranged the death sentence for me."
The UK Government welcomed the guilty verdict but reportedly said its opposition to the death penalty in all circumstances was well known.
Pearl was kidnapped in Karachi on January 23 while researching Pakistan-based militant outfits' links with Osama bin Laden's al-Qaida network.
"The Judge has convicted Sheikh Omar, 27, of murder, conspiracy and kidnapping charges," Chief Prosecutor Raja Qureshi told state television.
The Judge awarded 25-year jail term to Omar's three accomplices in the Hyderabad jail under tight security.
Mr Qureshi said he was satisfied with the conviction given to the prime suspect but he would appeal for the enhancement of the conviction given to the other three.
The four defendants were collectively fined Rs 2 million which would go to Pearl's widow Mariane and their son, who was born after his father's killing.
In case of non-payment, they will undergo five extra years prison.
In Washington, the Vice-President of Dow Jones and Company, publisher of Wall Street Journal, Steven Goldstein, in a brief statement said: "We continue to hope that everyone responsible for Pearl's kidnapping and murder will be brought to justice. Today's verdict is one step in the direction."
Sheikh Omar, who was among the three militants released by India in December, 1999, in return for the hostages on board a hijacked Indian Airlines jet flown to Kandahar, was accused of masterminding Pearl's gruesome killing, which was filmed and sent to US officials. Other militants freed were Masood Azhar and Mushtaq Zargar.
He was arrested by the Indian police in 1994 on the charges of kidnapping three Britons and an American. PTI