THE TRIBUNE MAGAZINES
On alternate Mondays

On Sundays
On Saturdays

IN PASSING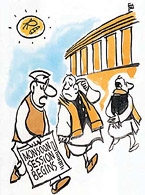 Why donít they call it no-monsoon session?
by Sandeep Joshi
MPs brave heat to vote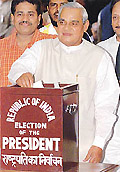 New Delhi, July 15
Prime Minister Atal Behari Vajpayee, Deputy Prime Minister L.K. Advani and Leader of the Opposition Sonia Gandhi were among the first ones to cast their votes today in the 12th Presidential election in Parliament House, which was marked by bonhomie. The polling, which began on a brisk note at 10 a.m. and ended at 5 p.m., was marked by some dramatic and lighter moments too.


In video (28k, 56k)


MLAs vote for President


Graphic: The Presidential election, a rundown
Pak armyís 10-day exercise from today
Ferozepore, July 15
Pakistanís armed forces would conduct military exercise from July 16 (Tuesday) as part of training programme that began following large-scale deployment of troops along the border with India. Indian intelligence agencies on the other hand are analysing Pakistanís war games seriously.



Theft in godown, stocks intact
Ropar, July 15
Investigation into the case of theft of wheat from Chamkaur Sahib-based godowns of Markfed have revealed that foodgrains were stolen by certain officials. The Ropar police caught Jasbir Singh, a field supervisor of Markfed posted at Chamkaur Sahib while he was trying to steal 440 quintals of wheat from the godown under his charge on June 29. The police confiscated the foodgrains, loaded into the two trucks.
Protesters keep Advani away from carnage site
July 15, 2002

Ultras kill 25 in Jammu
July 14, 2002

Punjab defers ordinance on tainted appointees
July 13, 2002

Venkaiah blends youth with experience
July 12, 2002

PM for consensus on labour reforms
July 11, 2002

Alexander quits
July 10, 2002

Parties reject EC order
July 9, 2002

Thousands bid adieu to Ambani
July 8, 2002

Buddhadeb meets Advani
July 7, 2002

Sukh Ram gets 3-yr RI
July 6, 2002