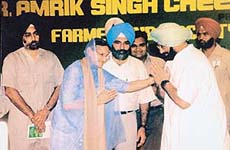 Punjab Chief Minister Amarinder Singh honours Mrs Raminder Kaur, wife of late Dr Amrik Singh Cheema, with a shawl at the convention "Farmer and Society — 2002 & Beyond" organised by Dr Amrik Singh Cheema Foundation Trust on Thursday to commemorate the 20th death anniversary of Dr Amrik Singh Cheema. Also seen in the picture is Mr Jagdeep Singh Cheema (centre), Chairman of the Trust.
Ahluwalia's book removed from MA course
Patiala, July 19
After the ouster of Jasbir Singh Ahluwalia from vice-chancellorship of Punjabi University, now a collection of poetry under the title "Sach Di Bela'' written by him and which was a part of the curriculum of MA (II) Punjabi, is being shown the door.
HC stays order cancelling PTU admissions
Chandigarh, July 19
Staying the operation of orders whereby admission to different courses under the Distance Education Programme of Punjab Technical University were cancelled, a Division Bench of the Punjab and Haryana High Court today issued notice of motion for August 9.
Waiting for NRI husbands
Bathinda, July 19
Kulwinder (name changed) has been looking after her two children with the hope that one day her husband will return from the USA. However, Kulwinder, a resident of Moga district, who has been waiting for her husband for the past eight years, on making enquiries came to know that her husband had divorced her after getting her signature on the divorce papers fraudulently and had subsequently married a US citizen.
Farm strategy meeting on July 23
Chandigarh, July 19
Even as kharif prospects are being assessed in Punjab in the wake of the delayed monsoon, there is a move to frame a basic policy, based on the report of Dr S S Johl Committee on Agriculture policy. A meeting to draw up an ''integrated'' actionable strategy is scheduled here for July 23.


Defeated candidate claims victory
Fazilka, July 19
Mr Harjit Singh Shahri of Hasta Kalan village of this subdivision who had contested the zila parishad poll in June this year has in a petition filed before the Deputy Commissioner, Ferozepore, claimed that he had won the election but had been declared defeated.


Married at 17, deserted in 3 months


Bathinda, July 19
Deserted by husband after a few months of marriage and disowned by her in-laws, a minor girl Sangeeta, hailing from UP, still and waits an end to her agony. While she was going to her mother's house at Panipat (Haryana) after remarrying while her first husband is living. Sant Ram, a local resident abducted her from train and brought her in Balraj Nagar here on the pretext that he would send her to her mother's house.
Kaushal denies move to chargesheet him
Chandigarh, July 19
Mr Sarvesh Kaushal, Principal Secretary, Local Bodies, Punjab, today denied that there was any move by the Centre to charge-sheet him for any irregularities allegedly committed during his tenure as the FCI Regional Manager from 1993 to 1998.
Doc's negligence led to her death?
Fatehgarh Sahib, July 19
Residents here today protested against the death of Saroj Wadhwa (35) allegedly due to negligence on the part of Dr Saroj Sethi of the local Civil Hospital yesterday while conducting tounsils operation when she allegedly cut another vein. They demanded the immediate arrest of the doctor.
Minister orders probe into land grab allegation
Chandigarh, July 19
Shaheed Udham Singh Engineering College which was in the news due to unauthorised construction in the Punjab New Periphery Control Act, is now again in the eye of a storm with allegations of encroachment and land grab being levelled against it.
HIGH COURT
Directive to CM on poll plea
Chandigarh, July 19
Fixing August 13 as the next date of hearing on a petition accusing Punjab Chief Minister Captain Amarinder Singh of indulging in corrupt practices during the assembly elections, Mr Justice Jasbir Singh of the Punjab and Haryana High Court today directed that written statement on his behalf should be filed by then.
Curbs on Baba quashed

Scam approver's plea dismissed

3-day notice to Maluka, if wanted
Dheera, Sagar to record statements today
Patiala, July 19
Two of the prime accused in the PPSC job-for-money scam, Randhir Dheera and Prem Sagar, will appear before the sessions court here tomorrow to record their statements as approvers.
Police remand for ex-members of PSSSB
Kharar, July 19
Four former members of the Punjab Subordinate Services Selection Board namely Kulbir Singh Randhawa, Munawer Masih, Jarnail Singh and Ashoke Loomba, who had been arrested by the Vigilance Department, were remanded in police custody till July 23 today by Mr Roshan Lal Chouhan, Judicial Magistrate here.
Vigilance raid on MC office
Fatehgarh Sahib, July 19
After the publication of the news item in The Tribune regarding the alleged House Tax scam in the local Municipal Council, the vigilance staff of the local government today raided the premises of the council and took away the record related to the House Tax case.
Over 700 vehicles lying unclaimed
Ferozepore, July 19
More than 700 motor vehicles cars, trucks, tractors, jeeps, scooters and motorcycles have been lying unclaimed in various police stations of Ferozepore district for a long time.
Villagers get liquor at throwaway prices
Phillaur, July 19
A different type of "Sale" is going on near Virk village in the subdivision nowadays where countrymade liquor is being sold at throwaway prices at two liquor vends in Jalandhar and Nawanshahr districts.
Civil Surgeon comes to widow's rescue
Abohar, July 19
Relatives of a widow had to struggle for about two hours to get her admitted to the Civil Hospital. It was only after the Civil Surgeon, Ferozepore, who was on a surprise supreme visit intervened that she was hospitalised.
Six held for attacking truck union office
Ropar, July 19
The police today arrested six persons for allegedly trying to take the "possession" of the office of the Ropar Public Carrier Union and threatening staff with dire consequences. Those arrested include Mani Singh, president of the Ropar Sehkari Truck Union.