Destinyís child
It had the makings of an excellent serial but Kammal Monday to Thursday 8 p.m. on Zee TV meanders with too many loose ends in the storyline. Had the script been more crackling, it would have been a sure-shot hit.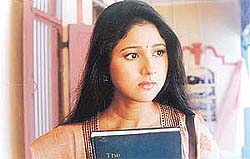 Scene from Kammal: Meandering pace
The story starts off promisingly with the protagonist, Kammal, having grown up in the lowest strata of society. Her guardian angles are three bar dancers who not just mother her but also groom her to be a woman of immense grace and beauty.
Not surprisingly, a most eligible man from the right side of the social divide falls in love with her and marries her against the wishes of his family.
What follows is a drama of love, deception, faith and betrayal. At every step of her life Kammal is put to test by her own loved ones and yet every time she emerges like the phoenix from the ashes.
Bereft of the saas-bahu fare, the story has inherent strengths but its handling leaves a kind of a vacuum. Too many deviations and sub-plots that stretch beyond a point. The four-days-a-week telecast compulsion is surely the downfall of many virtuous serials.
Going places
Deepti Bhatnagar has competition. Thereís yet another travel show on telly which too promises to satiate the peripatetic streak of viewers. Though not an out-and-out travel show like Mussafir Hoon Yarron, this one has a different appeal.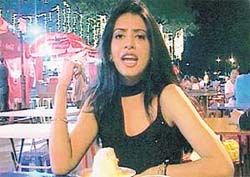 Pariniti Seth in Duniya Ki Sair Kar Lo: Bitten by the travel bug

Duniya Ki Sair Kar Lo takes off for an international holiday spot every Saturday at 9 p.m. on DD-Metro. Your tour guide is the comely Pariniti Seth, who not just takes you around the place but also tells you about the people, culture and tradition.
And if that makes you feel like singing and dancing, thereís plenty of that as well. This is not a pure travelogue but a camouflaged countdown show.
If you disregard the top 10 songs, the show is not badly conceptualised and it should pick up decent viewership. In fact, most travel shows have a niche following, especially in families that possess both a disposable income and a desire to go places.
And for producers they are a stairway to instant moolah as title sponsors ó as in this show ó are ever ready to cash in on the wanderlust of the urban Indian.
Woman of substance
Even as mythologicals have struck gold on television, historicals, of late, have curiously been a flop story. And that, despite the fact that some of the biggest hits like The Sword of Tipu Sultan, Chanakya and Noorjahan have centred on historical themes.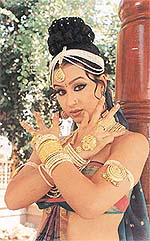 Aamrapali: Historical revisited

But producers havenít lost heart. In fact, many like D. Venkateshwar Rao and Dhilin Mehta are going ahead with a mega project, Aamrapali. To be telecast on Doordarshan soon, this 104-part serial is being made on a Rs 4-crore multifunctional set.
The serial is based on the tumultuous life and times of classical danseuse Aamrapali. It shows her transformation from a dancer to a social worker who did pioneering work for the uplift of women. In the process, she loses her lover, her freedom and finally embraces Buddhism.
"Itís a labour of love," says director Ravi Khemmu who was earlier associated with Shyam Benegalís Bharat Ek Khoj. "Aamrapaliís story is so relevant even today." And he hopes it would be as big a hit. A case of history repeating itself!
Journey through time
For nostalgia buffs, this has to be one of the most captivating shows on the small screen. A selection of the very best episodes from one of the best BBC travel series, Great Railway Journeys.
Titled Great Railway Journeys: Return Ticket the show looks back at some of the great trips in the company of writers, adventurers and artists from Latin America to Africa, Europe, Russia, and China, then back to Latin America, finally ending in Canada.
Presented by a huge range of personalities from celebrated black author and scholar Henry Louis Gates Jr. to prima ballerina Natalia Makarova, the train journeys across the globe are at once captivating and eventful.
Of great interest is the train ride from Hong Kong to Ulan Bator, a distance of 2,500 miles. The train snakes through Changshi, Shanghai, Beijing and finally Ulan Bator, the capital of Mongolia.
A fascinating blend of the old and the new this exotic train journey will come back to haunt you time and again.
Wild trek
Heís a master at coercing animals into playing their part on the silver screen, but can be calm the savage beast off the movie set?
In African Bush, July 22 at 5 p.m. celebrated Hollywood animal trainer, Jules Sylvester goes on a wild safari to meet Africaís most dangerous animals. He comes face to face with the untamed killers of South Africaís forest, and viewers have a front row seat in it.
Set on the edge of Kruger National Park, Jules begins his trek to find Africaís most deadly animals and reveals why they are so lethal, what are the danger signs for aggression and how to avoid an attack.
Since these animals are so dangerous, Jules has enlisted the assistance of "Dummy Jules", a motorised mannequin controlled by him that will get right into the thick of things.
Jules shows viewers just what itís like to be attacked by a lion, have a leopard sneak into your tent and how powerful a crocodile bite really is.
Daring, humorous and full of interesting tidbits about species and their activities, Jules Sylvester provides new insight into wild animal behaviour in this daredevil show.
ó Mukesh Khosla