by Peeyush Agnihotri
Auctions on the Internet are a powerful way to transact business. Sellers are able to convert their products into cash and buyers are able to find goods at desirable prices.
IT'S an open neelaam ghar with a keyboard cord attached. For the uninitiated, these are online auctions. Net surfers are in for unheard of deals. The mouse has replaced the hammer and for the Net surfers there is a whole array of products to choose from. Auctions on the Internet are a powerful way for sellers and buyers from geographically distant locations to transact. Sellers are able to convert their products into cash and buyers are able to find goods at desirable prices. Take the case of Mohit Malhotra. He "downloaded" a Nikon camera last month from one of the auction portals for an unimaginable price. "In the market, this SLR click thing would have cost me a fortune. I got it cheap that way," he says.




Where have they gone?
by Bernhard Warner
Stock market disarray has silenced one of the Internet's most consistent voices - scores of amateur investment 'pundits' who flocked to online message boards with their own brand of financial advice. Discussion groups dedicated to stocks - a reliable cache of oddball tips during the bull market run - have grown eerily quiet since the glory days. The Net has now become home to a hard core of wiseacres, bemoaning slumping markets and slipping in advice for good measure.

Of computer & new society
Camgirls give new dimension to paedophilia
David Rowan
KERRY was sent £ 70 ($ 105) worth of apparels last week, bought at Playboy's online store by a man she had never met. The same day, she received a £ 45 cheque at her home in Lancashire, northern England, to pose at her Webcam "and do absolutely nothing." In the 10 months since her personal Website went live, its sultry photo galleries and provocative 'livecam' shots have brought Kerry so much attention - and gifts ranging from lingerie to CDs — that she now plans to build a premium 'members' area' that she hopes will earn her a full-time living.

New superhighway on cards
Rajiv Kapoor
TRAFFIC! We all deal with it on the roadway and the Internet. And we all get frustrated when too much traffic slows us down - in our cars or in cyberspace. But did you know a new information superhighway is under construction? It is called Internet II. The university community has joined hands with the government and industry to accelerate the Internet development for research.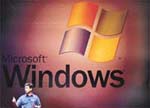 Unravel secrets of Windows
A. Khanna
BORED with the way you use Windows or is it the other way round! Most of the users simply follow the known path and do not try to 'discover' what Windows actually has in store for them. Here are a few instructions that besides giving you a fresh perspective on Windows will leave you begging for more.


The Web at work
Satinder Ahuja
THE Internet is a network of networks and is the world largest distributed system. It is a worldwide mesh or matrix of thousands of networks, owned and operated by thousands of people in hundreds of countries, all interconnected by about 9,000 ISPs (Internet Service Providers). No single organisation controls the Internet, not the biggest ISPs. The Internet is different from other major basic services like telephony, electricity etc. Four important services provided by the Internet are Telnet, FTP (File Transfer), mail and general client/server facilities etc.

IT WIT
by Sandeep Joshi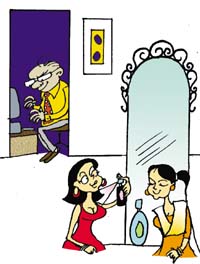 This is the special computer fragrance to allure my husband!
Dial Ludhiana for e-mails and SMS
Naveen S. Garewal
E-mails, e-greetings and SMS would no longer be the privilege of those who own a computer. A Ludhiana lad has come up with a novel service that allows you to send e-mails, e-greetings and even SMS messages over a phone landline.

E-mail individually for better response
WHEN it comes to sending e-mails, personal touch is the best because the more persons the message is copied to, the less likely the recipients will reply.

Bow-wow implants
BANGKOK authorities are to put microchip implants in pet dogs carrying data about their owners in a bid to curb the Thai capital's rising population of strays, officials said last week.

GRAPHIC: EXPORT DESTINATION OF INDIAN SOFTWARE INDUSTRY