Judges' case hearing today

SSP told to probe detention
TRIBUNE EXCLUSIVE
Development report presented to CM
Chandigarh, July 29
The preliminary draft state development report for Punjab was presented to the Chief Minister, Capt Amarinder Singh, here today. Commissioned by the Planning Commission, the report has been prepared by an inhouse team of the Centre for Research in Rural and Industrial Development and some external experts.

The Punjab Chief Minister, Capt Amarinder Singh, at the presentation of the state development report in Chandigarh on Monday. — Tribune photo Manoj Mahajan

Schools, colleges closed till August 4
Patiala, July 29
The Punjab Government has responded to a proposal by the Punjab State Electricity Board (PSEB) to close down educational institutions in the state, including universities, colleges and schools, to allow the board to meet the demands of the agricultural sector in the face of low hydel generation due to partial failure of the monsoon.
Judicial magistrates' jurisdiction changed
Ferozepore, July 29
The Punjab and Haryana High Court has transferred the work pending before two judicial courts of the district to other judges with immediate effect. Meanwhile, the District and Sessions Judge has also changed the jurisdiction of all judicial magistrates of the district.
'Bungling' in UBDC project
Gurdaspur, July 29
Rupees 180 crore World Bank-funded project to remodel the Upper Bari Doab Canal and its allied channels in Gurdaspur and Amritsar districts is mired in allegation. The works were not executed by the "standard company" and continued even during last Assembly elections and when the poll code conduct was in effect.
Dental college MD escapes from custody
Bathinda, July 29
Dr Naginder Singh Harika, Managing Director (MD) of Khalsa Dental College and Hospital, Nangal Kalan (Mansa), who was lodged at the local central jail here as undertrial in various cases of frauds fled from police custody while he was under treatment at the PGI, Chandigarh.
Markfed Manager held for pilferage
Tarn Taran, July 29
Government wheat worth crores is being pilfered in connivance with officials of Markfed all over the state.


15 SAD MLAs 'want to join Congress'
Ferozepore, July 29
The political adviser to the Punjab Chief Minister, Rana Gurmeet Sodhi, has claimed that 15 MLAs of the Shiromani Akali Dal have approached the Congress to join the ruling party. He was talking to mediapersons here last night.
Sack of Sodhi loyalists kicks up row in BJP
Jalandhar, July 29
The removal of four loyalists of the former state BJP chief, Mr Daya Singh Sodhi, has kicked up a row in the BJP as Mr Sodhi has termed the action of the state BJP chief, Mr Brij Lal Rinwa, as violation of the party constitution by Mr Rinwa and the state BJP organising secretary, Mr Avinash Jaiswal.
Anti-graft drive 'should be fair'
Bathinda, July 29
Mr Brinder Singh Mann, member, Working Committee of the youth wing of the SAD (A), while applauding the anti-corruption drive of the state government has said that it should be fair.


SAD (A) demands one rank, one pension for ex-servicemen
Bathinda, July 29
The Shiromani Akali Dal (Amritsar) has decided to launch a struggle to secure the one rank-pension scheme for the ex-servicemen.
Lack of funds hits flood-control exercise
Ropar, July 29
The Punjab government's financial crisis has hit the flood control programme severely and crops and land on the banks of Sutlej face threat of erosion.
SGPC general secy feels 'isolated'
Amritsar, July 29
Bibi Kiranjot Kaur, General Secretary, SGPC is feeling 'isolated and helpless' as many of her valuable suggestions pertaining to 'dharam prachar' are being ignored by the President, Mr Kirpal Singh Badungar.
Ban activities of Mahant Ashutosh: SGPC
Amritsar, July 29
The SGPC today sought a blanket ban on the activities of Mahant Ashutosh (Noormehlia) who has decided to organise a programme at Malout in Muktsar on July 31.
Failure of rain: farmers look for odd jobs
Inna Khera (Malout), July 29
The joy of residents of this village and its adjoining areas whose fields were rendered uncultivable due to water logging, knew no bounds when about two years ago, they were able to grow wheat, paddy and cotton crops again after the problem of water logging was solved by the Punjab Government by spending crores of rupees.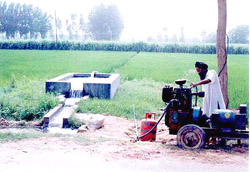 A farmer uses LPG cylinder for generator to irrigate his field due to the delay of monsoon and electricity crisis in Nawasahar, Punjab, on Monday. — PTI photo
IMA flays PSEB move on generators
Hoshiarpur, July 29
The state unit of the Indian Medical Association (IMA) will oppose move by the Punjab State Electricity Board (PSEB) to levy charges on consumers for installing generator sets. This was stated here today in a press note issued by Dr Kuldeep Singh, president (elect), IMA, Punjab.
PSEB staff strike on August 13
Hoshiarpur, July 29
Employees of the PSEB will observe a strike on August 13 in protest against the deduction in their salary by the board. This was decided at a meeting of the struggle committee of the employees here today.
Octroi evasion hits MC finances
Mansa, July 29
The local Municipal Council is facing a financial crisis due to its failure to check the evasion of octroi allegedly being done in connivance with certain officials of the council.
A village that lives on Shani's bounty
Patiala, July 29
Suffering from Saturn's malevolent gaze? Do not worry. Donate mustard oil or money or both on a Saturday and protect yourself from the adverse effects of Saturn.
Writers' forum honours poet
Fatehgarh Sahib, July 29
The District Writers' Forum of Fatehgarh Sahib gave away the Allha Yaar Khan Jogi Award to Punjabi poet Surjit Singh Marjara at a function in Sanipur village today.
Pilgrims' death: gloom in Sultanwind
Amritsar, July 29
A pall of gloom has descended in the Sultanwind area as 11 Sikh pilgrims who died on their way to Gurdwara Reetha Sahib when their truck fell into a khud in Champawat district in Uttranchal yesterday belonged to this locality.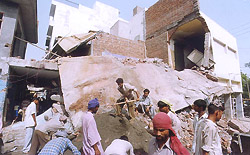 Close shave for beggars as roof collapses
Bathinda, July 29
A major tragedy was averted in the city today due to the timely intervention of some pilgrims who alerted beggars sleeping in a verandah in front of a shop in the Gandhi market minutes before its roof collapsed. The authorities say the shop had been constructed without getting the map approved.

This is what remains of a shop in Gandhi Market in Bathinda after its roof collapsed on Monday.
— Tribune photo Kulbir Beera

Degree holders threaten stir
Bathinda, July 29
Members of the Union of Unemployed B.Ed Degree Holders yesterday threatened to start an agitation, if the new education policy was not changed.
Two boys killed in train mishaps
Phagwara, July 29
Two boys were killed in separate train accidents here today, police sources said.


Travel agents booked for duping three
Hoshiarpur, July 29
Three cases of cheating by travel agents were registered at Mahilpur and Hariana police stations yesterday.
Co-accused held in cyber cafe murder
Jalandhar, July 29
The district police has arrested three persons, including a woman, in two different cases of murder and abduction.
Rickshaw-puller burnt to death
Jalandhar, July 29
A rickshaw-puller was burnt to death this morning by two persons, who poured kerosene on him and set his clothes on fire after forcing entry in his rented house in the Partap Bagh area.
Lieut-Col held in flesh trade racket
Jalandhar, July 29
The district police has busted a flesh trade racket with the arrest of seven persons, including five women and a Lieutenant-Colonel under the Prevention of Immoral Trafficking Act during a raid conducted at a house, near Sports College, on the Kapurthala road here last night.


8-yr-old thrashed at school
Fatehgarh Sahib, July 29
The parents of Ravinder Singh, a student of Class III in the local Rana Munshi Srav Hitkari Vidya Mandir School, in a letter to the Chief Minister, Education Minister and other district officials have alleged that due to the severe punishment and merciless beating of their 8-year-old son by the class teacher in the school on July 24 he became unconscious and was mentally disturbed.
100 doctors get NoC for postgraduate courses
Faridkot, July 29
The Punjab Government has issued a no-objection certificate (NoC) to all 100 doctors who, under the PCMS quota, have been selected by the Baba Farid University of Health Sciences, Faridkot, for admission to the postgraduate courses.
PCCTU defers district-level dharnas
Phagwara, July 29
The Punjab and Chandigarh College Teachers Union (PCCTU) today postponed its strike and district-level dharnas by colleges affiliated to Panjab University and Punjabi University.
GND varsity, centres closed till Aug 4
Amritsar, July 29
All teaching departments and regional centres at Jalandhar and Gurdaspur, besides affiliated colleges, of Guru Nanak Dev University will remain closed from July 30 to August 4, as per instructions of the Department of Higher Education, Punjab.
'Model parliament' gives tips for real Parliament
Bathinda, July 29
Politicians will be ashamed of their behaviour in Parliament and the state Assemblies if they see the 'youth parliament competition' being conducted by the Ministry of Parliamentary Affairs in the country every year.
DSO to observe anti-communalism day on July 31
Chandigarh, July 29
The Punjab unit of the Democratic Students' Organisation (DSO) will observe an ''anti-communalism day'' on July 31, the martyrdom day of Shaheed Udham Singh and the death anniversary of Hindi litterateur Munshi Prem Chand.