Sunday, August 4, 2002

Bridge
When the idea was good, but not the best
by Omar Sharif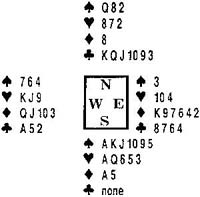 "WHEN you have thought of a good move, try and think of a better one," was, I am sure, first said about chess. It applies equally to bridge.
On this week's deal South had a good idea — but not the best one.
South dealt at game-all and opened Two Spades. North bid Three Clubs, South showed his Hearts and, after a Spade preference from North, went on to Six Spades.
West led the Queen of Diamonds and declarer won with the Ace.
His first thought was to ruff a Diamond in dummy and rely on the Heart finesse, but he soon had the better idea of using dummy's suit. At trick two he carefully led the Nine of trumps to dummy's Queen. Then came the King of Clubs and, when East failed to cover, a Heart discard from hand.
It all looked too simple. With the Spades breaking no worse than 3-1, declarer planned to draw trumps ending in dummy and take four more discards on the long Clubs.
Disaster! On winning with his Ace of Clubs, West forced dummy with another Diamond and now South could take only two more discards on the Clubs before West was able to ruff.
It was a fair plan but (clearly) not quite good enough. Try discarding the five of Diamonds on the King of Clubs.
Now dummy's trumps cannot be shortened and all four losing Hearts can be thrown away at leisure after drawing trumps.