Play it again, Sam
Devdas has done it. So have a handful of films on the life and times of Bhagat Singh. Bollywood is rewinding to the past. And television is emulating the big brother.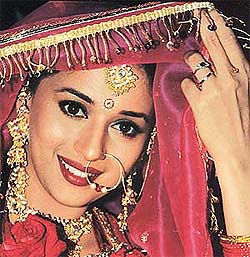 Can Madhuri save Kahin Na Kahin Koi Hai?

Call them old wine in new bottles or cover versions, the fact is that popular themes seldom die and can render themselves to several adaptations — good, bad and indifferent.
Back in the eighties, the first man to cash in on the popularity of religious epics was Ramanand Sagar with Ramayana. Now the new millennium has a new version with Nitish Bhardwaj playing Lord Rama and Smriti Malhotra Irani portraying Sita.
Real-life crime series too can spawn their own lookalikes as was recently seen on Star Plus, Sahara and Sony TV. Kahani Jurm Ki, Haqeeqat and Bhawandar were all reality shows based on stories of human rights violations and police atrocities.
Even Sony TVs Shubh Vivah and Doordarshan's Swayamvar resembled each other so closely, that a court had to intervene to stop the screening. Now a settlement seems to have been reached and Sony has rechristened Shubh Vivah as Kahin Na Kahin Koi Hai.
But despite Madhuri Dixit, the show is not whipping up the expected viewer hysteria. Which proves that you need more than hype to sustain a show in these competitive times.
Murder she said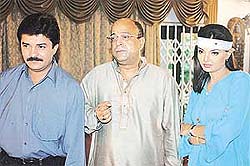 Scene from The Trap: Suspense thriller

It's a hackneyed plot that has often been the stuff of a number of 'suspense' movies starting with Teesri Manzil in the sixties. Yet the plot has seldom failed to enthrall and engage the viewer.
The Trap, Tuesday to Friday at 10 p.m. on DD Metro, is yet another attempt at solving the classical murder mystery.
The story revolves around a girl who is the only witness to a murder. Hema is coming back from a birthday party when she accidentally witnesses a murder. She manages to escape but the killer traces her down and kills her.
The police identify the killer but are unable to do much as he is a powerful goon from the Mumbai underworld. Hema's sister Anuradha moves to Mumbai to bring the villain to justice. She meets a college friend Deepak who is now a police inspector. He agrees to help her out.
Will Anuradha be able to track down the real killer or are there surprises and dangers lurking out there to get her? Is she on the right track or is she walking into a set-up? Find out the answers for yourself in this absorbing series.
Terms of endearment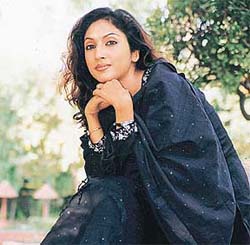 Mauli Ganguly: Model star of the small and big screen

While still studying in Mahadevi Birla School in Kolkata, she wanted to become a doctor. After finishing school, she did her mass communication from Mumbai's Sophia College. And then went on to do a course in hotel management.
When her exasperated parents asked her what she wanted to do, Mauli Ganguly's answer was mildly shocking. "I want to try my hand at modelling." And for good measure, she could have added acting. For, acting was a profession she secretly wanted to pursue.
And she's done a good job at that considering she is a top-of-the-line model and one of the small screen's most in-demand stars. As Shaina Sikand in Kaahin Kissi Roz on Star Plus, Mauli says she's enjoying every minute of her stint in front of the camera.
"When I first heard the story it simply electrified me," says Mauli, who grabbed the offer with both her hands. "I instantly took it up because I loved the script and not because I was desperate for an acting assignment."
Apart from serials not many know that Mauli has done over half a dozen films in Hindi and Bengali. "I am at complete ease doing Bengali and Hindi films," says the star.
Modelling, TV and films — what does she prefer? Her reply is quick and almost pre-meditated, "My only preference is good roles. I want to prove that I can act." And going by her performance in Kaahin Kissi Roz she sure is proving it in no uncertain terms.
Cross-border failure
It's finally curtains down for Sarhadien. After a troubled eight months, the cross-border love story on Zee has been given a hasty burial.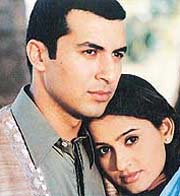 Scene from Sarhadien: It's curtains down

Director Rakesh Sarang blames the bad time slot which took away the popular appeal of the serial. First it was allotted the 11 pm slot. By the time the serial started to air, half of the potential viewership was already in bed.
Realising the folly, the serial was shifted to 8 p.m. with an inexplicable decision to re-run all previous episodes. A repeat of the old episodes turned off a number of viewers who began shifting their loyalties to other programmes.
The makers simply blame the timing, saying that if the film Gadar could be such an amazing success, Sarhadien should have picked up some sympathetic viewership.
The serial recreated the essence of typical households in India and Pakistan and the striking similarities between the two and an underlying message of universal brotherhood and peace hammered in scene after scene.
But the serial was being aired at a time when cross-border tensions were at an all-time high. This further eroded the popularity. Add to that, the overall ratings of Zee have been dropping dramatically for the last few months which have hit all the programmes on the channel. And Sarhadien already tottering under the weight of poor viewership just could not bear the onslaught.
Tigers by the tail
Tiger is the supreme symbol of strength, beauty and grace. At the turn of the last century, tigers numbered more than 100,000. Yet now their survival in the wild is threatened.
In Chasing The Tiger, Saturday August 17, 5.40 p.m. on BBC World, Julian Pettifer examines savage extermination of the tiger at the hands of rogue traders. Tiger parts, including the skin, will earn poachers $ 1500. Tiger bones fetch $ 750 a kilo.
Old Delhi has become a veritable clearinghouse for tiger products. The show follows long-running conflicts raging between traders and wildlife 'police'. Undercover agents stage a sting but see their efforts marred by cunning traders. The game goes on.
The Dudwa Tiger Reserve is one of the 23 tiger reserves throughout India. Very much the driving force behind it is an 80-year-old man who has hunted tigers with a passion — Billy Arjan Singh. Later, he helped get official recognition for the Dudwa National Park.
Apart from Billy, support has come from an unlikely source, martial arts superstar Jackie Chan. "In this day and age, there are many alternatives to tiger products. When the buying stops, the killing will automatically stop," says Chan.
Both Billy and Chan are contributing to save the tiger. Will they succeed? "The battle is a long and hard one. But the tiger must to be saved," says Billy with a certain finality.
— Mukesh Khosla