For stuffing
Chicken 300 gm
Curd 1 cup
Onions 2
Ginger-garlic paste 2 tsp
Garam masala 2tbsp
Red chilli powder 1 tsp
Salt to taste
Method
To prepare stuffing: Take chicken (cut into bite-sized pieces) and roll in curd. Add all the other ingredients and set aside for 15 minutes. Put these in a pan and stir on medium flame for 7-8 minutes. Add just a little water and cover and cook till chicken pieces are soft and tender. Remove the lid and stir till it is dry. Keep the stuffing aside.
For the rolls: Sieve the flour and salt together. Put in a large bowl. Make a well in the centre and pour milk into it. Make a soft dough . Knead with a little oil till the dough is ready to roll. Cover with a wet muslin cloth and keep for 15 minutes. Roll into thick chappatis and cook on a hot tava. When one side of the roll is done pour one portion of beaten egg on it and turn. When both sides are done remove from tawa. Fill in the stuffing, roll and onion salad and serve hot with green chutney.
Anarkali parantha
Ingredients
Flour 500 gm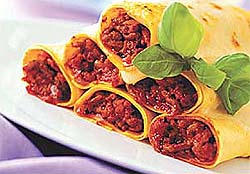 Rolls and paranthas are best relished with gravy or pickle

Eggs 3
Milk to make dough
Sugar 1 tsp
A pinch of salt
For stuffing
Lamb liver 200 gm
Lamb brain 100 gm
Onions 2(chopped)
Garlic 8-9 cloves
Cumin seeds 1/2 tsp
Garam masala 1 tsp
Turmeric powder 1/2 tsp
Red chilli powder 1/2 tsp
Coriander leaves 1 sprig
Butter 100 gm
Oil 50 ml
Salt to taste
Method: Heat oil in a pan. Add the chopped onions, garlic and cumin seeds and fry lightly. Add the meat, water and rest of the spices and cook till done. Divide into 6 portions. Make the dough as mentioned earlier and divide into six portions.
Place the stuffing in the middle and fold. Roll into 6'' diameter chappati and cook on a hot griddle on low flame. Serve hot with gravy and salad.
Roghni naan
Ingredients
Plain flour 2 cups
Dry yeast 2 tsp
Sugar 1 tbsp
Butter 3 tbsp
Curds 2 tbsp
Warm milk 1/2 cup
Milk extra 1 tbsp
Poppy seeds 1 tbsp
Raisins 1 tbsp
Saffron strands 1/4 tsp
Method: Sprinkle yeast and sugar over warm milk. Keep aside for 30 minutes or till very frothy. Rub saffron into the remaining 1 tbsp. milk. Keep aside. Mix flour and salt in large plate. Form a well in centre. Pour curd and yeast solution in it and keep for 10 minutes. Add curd and knead into soft, elastic dough. Put dough in a deep vessel and keep aside covered for 10 hours or overnight.
Divide dough into 5 parts. Make rounds, place on a greased baking tray. Keep aside for 15 minutes. Roll into thick oval or triangle. Keep centre slightly thinner than the edges. Preheat oven at 350 C.
Sprinkle some saffron water, khuskhus, and raisins over naan.
Wet bottom and stick to baking tray. Make as many as will fit in the tray. Bake for 4-5 minutes or till done. Remove, drizzle some butter over it if desired. Serve hot with curries or gravied vegetables.
Moongdi
Ingredients
Motth dal 1/2 cup
Wheat flour 2 cups
Cumin seeds 1/2 tsp
Coriander seeds 1 tsp
Red chilli powder 2 tsp
Garam masala 1/2 tsp
Asafoetida 3-4 pinches
Salt to taste
Ghee 2 tbsp
Oil to shallow fry
Method: Wash and soak dal for 4 hours, drain, skins intact. Mix all ingredients, except oil. Add very little water at a time, and knead into a pliable dough.
Take a small lump at a time, make a round.
Using dry flour for dusting, roll into round chappatis. Roast on griddle, cooking on both sides. Drizzle a little oil on each side. Press with a small wooden presser till both sides are crisp.
Variation: Green moong dal can be used instead of motth dal.
Kulcha
Ingredients
Plain flour 3 cups
Oil 1 tbsp
Dry yeast 1 tsp
Baking powder 1/4 tsp
Sugar 1 tsp
Warm milk 1/2 cup
Curd 2 tbsp
Salt to taste
More milk for kneading if required
Method: Sprinkle yeast and sugar over warm water. Keep aside for 5 minutes or till frothy. Mix salt and flour, take in a large plate. Make a well in centre. Put curd in well. Sprinkle baking powder over it. Allow to stand for 2-3 minutes. Pour oil, yeast solution, in well and mix gradually. Use milk as required, to make a soft stiff dough. Brush dough with oil. Cover with inverted bowl. Keep aside for 4 hours. Grease palms well and punch dough till soft and elastic.
Cover again and keep aside for 10 minutes. Break a lump of dough.
Roll or pat to a thick round about 6" diameter. Roast on hot griddle, or tandoor, till golden spots appear. Or shallow fry on griddle. Serve hot.