A turn around came in his career in 1983-84 when he shed his shackles against Marshall and the West Indies, and answered with a 94-ball century at Delhi. Slow to adjust to one-day cricket, Gavaskar scored 36 off 60 overs against England in 1975. His only century, coming in his last but one one-day match, was off 85 balls versus New Zealand. The highlights of his captaincy were of course the a 2-0 Test win over Pakistan in 1979-80, and winning the World Championship of Cricket in 1985.
One of his classic Test innings was a score of 96 on a minefield of a pitch at Bangalore against the Pakistanis. Sunny went on to be the first Indian (excluding wicket-keepers) to take over a hundred catches. After retirement, he has been a popular, sometimes controversial commentator, both on TV and in the print media.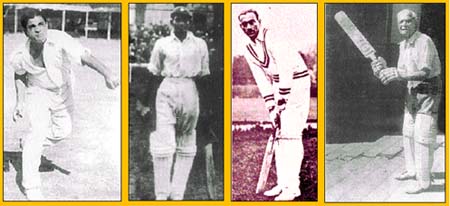 Vinoo Mankad, Vijay Merchant, C.K. Nayudu, DB Deodhar
Lala Amarnath
Nanik Amarnath Bharadwaj or Lala Amarnath shot into prominence with a strokeful 118 century on debut in India's first home Test in 1933-34. He was India's first centurion. In those days, Test cricket was played infrequently and Lala got to play only 24 tests till 1952-53. Despite being a talented allrounder, his career was marked with ups and downs because of extreme outspokenness. His personality (and possibly envy over his talent) led him to clash with authorities several times, notably in 1936, when his captain Vizzy decided to send him home from the tour to England. He recovered from this disgrace to lead India to Australia after World War II in 1946-47. Lala died on August 5, 2000, aged 88.
Mohd Azharuddin
At his peak, Azhar was a sight for sore eyes, sinewy wrists transforming the bat into a magician's wand. He made a dramatic debut with three consecutive Test hundreds against England in 1984-85 starting from Calcutta. In later years, he conjured some of the finest innings of the modern era - his 121 at the Lord's in 1990 was one for the gods. This Hyderabadi's lifeline captures a classic rags to riches story. He established himself as a reliable middle order batsman, at least on home pitches. Abroad, his record was not impressive. His inadequacies against pace on bouncy tracks showed up on tours to Australia and South Africa. His stint as a captain in the 1990s saw several curves. His personality was often perceived as being too quiet and inward to have strong leadership skills. The match fixing scandal rocked his career and he is now serving a ban following a CBI enquiry.
Bishan Singh Bedi
Wearing a colourful patka, Bedi fired the imagination of a nation with teasing spin. The purity and perfection of his art was a connoisseur's dream. He was stealthy, silent and deadly, a master of deception who conjured variations in flight, loop, spin and pace without any perceptible change in action. No orthodox left-arm spinner has claimed more Test wickets, and his tally of 1560 wickets in first-class cricket is more than any other Indian bowler. Bishan Singh Bedi was one of the great among the quartet of spinners who graced Indian teams of the 1970s.
His flight, combined with seemingly endless variation of pace, spin and bounce could puzzle even the most solid and technically correct player. One of best innings against his bowling have been played by the great Clive Lloyd, who scored 267 at the Eden Gardens in 1967. Born in Amritsar, Bedi played his cricket for Delhi and also played several seasons in English counties. Interestingly, his son from the first marriage is named Gavasinder, the first part of the name has been culled from the name of Sunil Gavaskar.
D.B Deodhar
Dinkar Balwant Deodhar is argued by old timers as the greatest Indian cricketer never to play Test cricket; he was 40 when India played its first Test in 1932, and was passed over for selection. But he was already an icon in domestic circles, an aggressive strokeplayer. He was involved with Indian first-class cricket from about 1910 onwards. A highly regarded batsman, he was credited with establishing Maharashtra as a premier first-class team in the 1930s, leading it to the Ranji Trophy in 1939-40 and 1940-41.
Vijay Samuel Hazare
A short man, he had all the strokes and a very strong defense, cricket writers say in his praise. He was also a very useful medium-pace bowler and a fine fielder. Retiring and gentlemanly, he was a conscientious captain of India for three years in the early 1950s. At Adelaide in 1946-47, he became the first Indian to score centuries in both innings of a Test, and he scored at least one hundred each country he played against. A wonderful bat, who captained India 14 times, Hazare amassed a career first class average of 58.19 over 32 years of cricket, including 57 centuries. His record in domestic Indian cricket was phenomenal, with two triple centuries - the second an amazing 309* out of a total of 387. His 4th wicket stand of 577 with Gul Mohammed is still one of the best. His test average is bettered only by Gavaskar (excluding current players).
Anil Kumble
On Indian soil and spinner- friendly wickets, no other Indian bowler has won more Tests than Kumble. Unorthodox, he does not turn the ball much. Actually, more often than not the ball comes in towards the batsman. After Jim Laker, he is the only bowler to take 10 wickets in an innings. His 10 for 74 in a single Test innings against Pakistan at New Delhi has assured him immortality.
India's main strike bowler of the 90s, Anil Kumble, like his illustrious predecessor B.S. Chandrasekhar, has frequently proved to be a match winner, especially on Indian wickets. His six for 12 in the Hero Cup final against West Indies in 1993-94 is etched in the minds of his fans.
Vinoo Mankad
Mulvantrai Himmatlal Mankad or "Vinoo", as he was always known, was a world-class allrounder. A right-handed batsman, he has batted for India in every batting position, but most of his successes came as an opener, including all five of his centuries, and a world-record opening stand of 413 with Pankaj Roy against New Zealand in 1955-56. His most famous feat was against England at Lord's in 1952 when he scored 72 and 184, and took 5 for 231 off 97 overs. Originally, he had been omitted from the tour for political reasons, but he was hastily called up from the Lancashire League for the second Test of that series. As a bowler, he was a slow left-hander of the old-fashioned orthodox type, varying his natural legbreak with a faster arm-ball. Vinoo Mankad died in Bombay on August 21, 1978, aged 61.
Vijay Merchant
Vijay Madhavji Thakersey, or Vijay Merchant got his surname due to his family occupation. His two tours of England alone yielded over 4000 runs and all his 10 Tests have come against the old colonial power. He served as an administrator, writer and broadcaster. Batting at No. 6 in his first Test series against England in 1933-34, Merchant secured just one fifty in six innings. He then gravitated to the opening spot which he found to be his real position. He was known to play the late cut very well. He died after a heart attack in Bombay on October 27, 1987. He was 76.
C.K. Nayudu
CK, or Cottari Kanakaiya Nayudu, was India first captain against England at the Lord's in 1932. He made six centuries in that series, led the batting averages with 37.59 and took 79 wickets. His figures in the series of 1933-34 and 1936 were equally stellar. He first came to prominence when in 1926- 27 at Bombay, he hit 153 out of 187 in just over a hundred minutes for Hindus against the MCC team. He died at Indore on November 14, 1967, aged 72 . The legendary CK loved to loft the ball and was known for ability to hit sixes. His first class career spanned 47 years and he played his last game at the age of 68.
M.A.K. Pataudi
Tiger made his debut in 1961-62, six months after he lost his right eye in a car accident. Where others saw one ball, he saw two, seven inches apart. He had to pick the right one - the inner image - if he were to get bat to ball. Thrust into the captaincy when he was just 21, Pataudi was the youngest-ever Test captain. An endearing and outstanding personality, Mansur Ali Khan Pataudi takes his place as among the leading batsmen and best captains in the history of Indian cricket. Pataudi led India in the then record number of 40 Tests. He also captained Oxford University in 1961.
Sachin Tendulkar
Acknowledged by Donald Bradman as his modern incarnation, Tendulkar promises to break every conceivable record in sight before he quits the game. He is aggressive, yet correct, and on his day can make the best of bowlers look extremely mediocre.
When Mike Denness handed over the controversial suspension for alleged ball tampering, it rocked the cricketing world.
But while he may not end with a career Test average of 99.94, there is little doubt that he is the most complete batsman since Sir Vivian Richards. When Tendulkar is on a song, there is no more majestic sight in the cricketing world.
A mentally strong, Tendulkar is best when confronted by a challenge, as he showed when mowing down Shane Warne in India in 1998. Captain for two short stints, Tendulkar has made it clear that he would prefer to concentrate on his batting. He is the first to cross the 10,000-run barrier in one-dayers.
Dilip Vengsarkar
His name evokes images of the cover-drive played with imperious ease. Images too from three successive centuries at Lord's, and a magnificent series-winning hundred at Headingley in 1986. He was consistency personified from 1986 to 1988, in 16 Tests, he scored eight hundreds. The 1986-vintage Vengsarkar was one of the three best batsmen in the world. He burst upon the scene as a talented teenager when he scored a breezy 110 for Bombay against the Rest of India in 1975, taking a huge toll on Bedi and Prasanna, then at their peak. It was not until the tour of Australia in 1977-78 that Dilip Vengsarkar established himself in the Indian side and for the next 15 years he was one of the batting bulwarks. He led the country in ten Tests, but lost the captaincy in 1989 following a controversial tour to the USA to play some festival matches. He now runs the Elf-Vengsarkar cricket academy in Mumbai.
— Ajay Banerjee