Stage presence
He has hit big time with new musical
Sitesh Debnath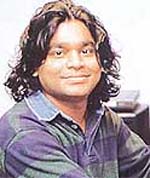 With Bombay Dreams, Rahman has gone global

WITH the success of Andrew Lloyd Webber's latest musical, Bombay Dreams, Bollywood composer A.R. Rahman has hit a new high. In a career spanning less than a decade, he has reached the threshold of being the first Indian tunesmith to break into big-time Hollywood.
Rahman, however, continues to work from home in Chennai from where he has produced over two dozen hits (surpassing 2.5 million units each) ranging from Roza, Thiruda Thiruda, Gentleman, Rangeela and Bombay to the more recent Dil Se, Taal, One 2 Ka 4, Fiza and Lagaan.
In the process, he has successfully re-defined popular film music, fusing elements of Bach, Beethoven, reggae and rock with Carnatic, Hindustani classical and folk idioms. The music from his high-tech synthesiser is very much digital, yet intelligent.
Today, as he stands head on shoulders over other musical veterans like Anu Malik, Rajesh Roshan and Nadeem-Shravan, there is little Rahman needs to prove any more. He has won countless awards and a reputation that goes beyond the success and failure of films. Each song he composes, is regarded as a musical monument that stands independent of box-office fortunes.For instance, Mani Ratnam's Dil Se was a colossal disaster, but the Chhaiya Chhaiya number was an all-time hit. In many ways, it marked a turning point in Rahman's career as it effectively countered the accusation that he faltered when it came to north Indian music.