Back on track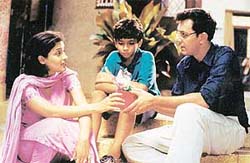 Scene from Hubahu: Action time again
It started with a bang and had viewers mesmerised. But then the pace slackened inexplicably and the serial's popularity plummeted faster than the twins could switch identities. From being the talk of the town, Hubahu, Thursdays 8.30 p.m. on Sony, became the bore of the town.
It was as if the storywriter had suddenly developed writer's block. The serial froze in time with one twin with a broken arm stuck in the house of the other. Ananya in Mumbai and Aditi in Bangkok.
The rapidly falling TRPs seem to have suddenly jolted the makers from their slumber. Now the serial is back on the fast track with reporter Rajiv suddenly shot dead by a mystery woman and Hemant turning out to be an undercover cop and not a gangster as suspected by Aditi, who too barely escapes an attempt on her life.
Will the two sisters switch to their original identities? For answers you can tune back to the serial and once again watch Sandhya Mridul Singh in the double role of Aditi and Ananya. The element of boredom has been eliminated — for the time being at least!
In aid of AIDS
In a bid to counter the growing AIDS epidemic in India, BBC World Service Trust, Prasar Bharati and the National AIDS Control Organisation have launched the world's most intensive broadcast campaign.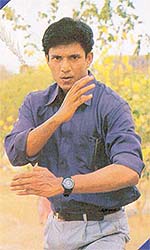 Jasoos Vijay: Unique AIDS awareness campaign

For the next 10 months, the partners will be transmitting a detective drama, Jasoos Vijay on regional DDstations, with an omnibus edition on DD National. A weekly youth show called Haath Se Haath Milaa, a radio phone-in Chat Chowk and social ad spots.
Jasoos Vijay is an interactive detective series that is a fast moving, action-packed with an unusual twist in the tail: viewers can try their hand at being detectives themselves.
The second AIDS awareness show, Haath Se Haath Milaa takes young people on board two special buses that will travel to cities, towns and villages. Their primary aim would be to persuade people to use condoms.
The third in the series is an innovative Hindi phone-in show, Chat Chowk, which features competitions, an informative phone-in, the latest Indi-pop songs and celebrity interviews.
"This is the largest broadcast campaign ever mounted in the worldwide fight against AIDS," says DD director general S.Y. Quraishi. "The idea is to convey information through TV entertainment before the dreaded disease spreads its vicious tentacles."
Achint's dreams
She may have a small role in Dhadkan but whenever she comes on the screen, she walks away with the honours. Now Achint Kaur's appeal is spilling to Bollywood. And if her performances in Om Jai Jagdish and Sur are anything to go by, life's on a rollercoaster.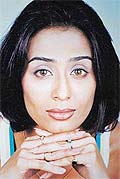 Achint Kaur: Bollywood beckons

In 1997, when she came looking for roles in serials, she was already married and had a child in tow. But Achint didn't let things dishearten her. Not even the fact that her first role was that of a ghost in Aahat and in Captain Vyom, she played a green-faced snake.
What kept her going were the modelling assignments for top products like Pond's, Whirlpool, Park Avenue, Hawkins and Maruti Esteem. And then followed serials like Banegi Apni Baat, Saaya, Tere Mere Sapne and now a cameo in Dhadkan.
But what she's really looking forward to is a new daily soap on Sahara TV based on the Hollywood thriller, Fatal Attraction.
So, will she stop modelling as she gets more and more involved in serials and films? No, says Achint. "Both can continue simultaneously." But it doesn't appear so. The way her career is speeding along, she's soon going to be a very, very busy lady.
Divine quest
If you are an Indophile, this travel series is just for you. Indian Journeys on BBC World, starting August 20 every Tuesday at 10 pm, is a six-part series comprising fascinating forays into the spiritual heartland of the country.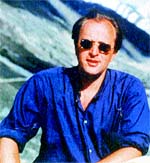 Dalrymple in Indian Journeys: Spiritual travels

The anchor of these religious explorations is none other than the celebrated British author William Dalrymple whose book on Delhi titled City of Djinns created a sensation some years ago.
Dalrymple's captivating journeys start with north India. The first two episodes, Shiva's Matted Locks, see him tracing the source of the Ganges in the Gangotri and beyond, in the lofty Himalayas.
In the next two episodes titled, City of Djinns, Dalrymple is on very familiar territory. He visits Delhi to assess the relationship between Islam and Hinduism and meets up with people of both the communities.
In the final two episodes, he goes to Andhra Pradesh which is said to have close connections with St Thomas, the apostle of Jesus, better known as doubting Thomas.
An absorbing series that is both informative and entertaining. The vivid anecdotal skills of Dalrymple are amazing and will keep you glued to your sets.
Operation hope
A ground-breaking medical series, Super Surgery, Saturdays at 10 pm on Discovery, is an all-access pass to a new frontier in surgical procedures, taking viewers inside the dramatic real-life stories of infants and adults pursuing their hope for a cure.
The show makes viewers feel as if they are part of the team as cameras capture intricate surgical procedures to repair rare medical disorders untreatable by conventional means.
All of the dramatic elements required to tell these real-life courageous stories are in place — highly-skilled surgeons, leading-edge 21st century technology and patients who have exercised all of their medical options. Surgeons explain that in an operation sometimes a patient is taken to the edge of life to be given a second chance.
As the operating room transform itself into a television studio, broadcasting from inside the patient's body, viewers see the surgeons manipulating the robot to perform intricate surgery. They use electric scalpels and magnets to direct needles mini-vacuum cleaners to remove surgical threads.
So get ready to scrub up and enter the operating rooms where patients put it all on the line to be healed by incredible surgeons who use the latest in medical technology borrowed from such unlikely sources as B-2 bombers and the Space shuttle.
— Mukesh Khosla