Fear is the key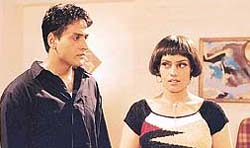 Scene from Kya Ajeeb Ittefaaq Hai: Mystery thriller

It's a thriller which would grab your attention from the word go. Kya Ajeeb Ittefaaq Hai, on DD-Metro from Monday to Friday at 9 pm, is a potboiler with numerous twists and turns guaranteed to keep you glued to your television set. The central character of the story is a jobless young man, Rahul, who, despite his and his girlfriend Pratiksha's best efforts, has not been able to land himself a job. He is desperate and penniless and would do anything for some money.
That's when things get curious. He receives a phone call that his son has been kidnapped and the caller wants him to cough up a ransom of Rs 2 crore. The unmarried Rahul realises there's been a mix-up of identities and the kidnapper's call was for the industrialist Rahul Anand, whose son has been abducted. Suddenly he hits upon a plan. Posing as a kidnapper, he calls up Rahul Anand and demands Rs 4 crore. The idea is to pay Rs 2 crore to the real child-lifters, get the boy released and pocket the other Rs 2 crore.
The plan succeeds and Rahul gets Rs 4 crore. But things start going horribly wrong instantly. While paying him the ransom, Rahul Anand has stealthily taken his picture which is now being flashed across television screens. Rahul panics and bolts.
Accused of kidnapping and murder, Rahul now has no escape routes and his fear knows no bounds. That's when he meets a woman detective who volunteers to help him. Who is she and why is she so keen to assist? Find out the answers in this gripping mystery.
Over to cricket
Cricket never seems to go out of business. in fact, along with football, it continues to be one of the biggest money-spinners for TV channels.
Now in a kind of a broadcasting coup, ESPN-Star Sports have acquired the rights for all international cricket from Australia, South Africa, New Zealand, Zimbabwe and England from 2003 to 2008.
Another big news is that Sachin Tendulkar has inked an exclusive contract to promote ESPN Star Sports and be a part of the channels' exclusive programming. The master blaster may be missing his touch on-field, but as far as sponsorship deals go, he still is a big hit. While Sachin and ESPN-Star Sports get into the thick of things, Sony Max provides the lighter side of the game with Cricket Masala every Sunday hosted by Ruby Bhatia.
So what do you expect when Ruby hosts a cricket show? The answer is simple — You get stuff like What's Hot, What's Not, Who's In, Who's Out. And there's the crowing glory, Kiska Band Bajega — if you don't know what that has to do with cricket, you could always ask Navjyot Sidhu. Only he can come up with some equally mindless verbal bouncer.
Gol 'mall' hai
Back in 1992, when he first hosted the Superhit Mukabala on Doordarshan, Chunky Pandey was a rising star whose huge hit Aankhen with Govinda had film producers chasing him with offers in hand.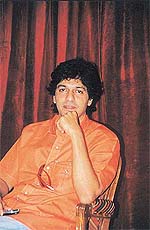 Pandey: Will Loot Mall revive his fortunes?

A decade later, viewers can be excused if they ask, 'Chunky Pandey who?' From 1992 to 2002, it's been a downhill drive for the once promising star. Roles have completely dried up and Pandey is a Bollywood has-been.
But now, when many of his contemporaries like Govinda are past their heyday, Pandey is making a start all over again as host of Loot Mall, starting August 23 every Friday 8 pm on Sab TV. The new interactive game show promises to take viewers on a spree and allow them to shop till they drop without spending a single paisa!
Set in the backdrop of a busy, fashionable market with an invited audience as shoppers, this show completely pampers greed. Even viewers watching at home get to win prizes through a token system.
"Show me one person who doesn't dig shopping. And if you get to do it without spending a single paisa, all you can say is ... wow!" says Pandey all worked up about the new show, where unlike films he's a star performer.
Fit or fat?
What is fitness? How is it achieved? Why is there such a worldwide fuss to remain fit? This season, Discovery Channel in its India-specific Women's Hour packs fresh new programming that will inspire viewers to feel good and look good.
Whether it means achieving a fitness goal or simply getting a new look, the new series every Tuesday at 12 noon includes segments like Fitness Fantasy, Diet Busters and Makeover Story. These shows allow viewers to follow individuals on a mission to confront their challenges head-on to be physically and emotionally fit. Everyone has one great fantasy. It may be to go on a date with a movie star or better still, look like a movie star. According to the producers, that's where Fitness Fantasy will endeavour to fulfil the dreams of dozens of men and women — all in the pursuit of fitness.
The series puts a new spin on looking as viewers watch individuals strive to reach their fitness goals and achieve the fantasy of their choice.
Each episode tells the story of one person who is undertaking the all too familiar task of getting into shape and getting healthy. Viewers get to know each person by following him or her over eight weeks of setting a fitness goal and working to achieve it. So don't forget to tune in and muscle up.
Science of India
Despite many westerners still considering India a land of elephants and snake charmers, the country is cruising on the fast lane of development and is forging its future with a unique brand of hot science.
Hot science? Yes, that's what the National Geographic Channel calls its new show titled Hot Science From India August 22 at 3 p.m.
Here, says the channel, the needs of the world's second largest population are pushing the limits of science. India is at the forefront of digitally dividing the developing world with a hand-held, inexpensive alternative to the PC.
Then, see how Indian meteorologists are attempting to improve lives by developing sophisticated computer models that may predict future monsoons.
Finally, see what Indian doctors are learning about leprosy and how their findings are helping to see the disease in a new light.
A fascinating piece that projects the dynamic steps being taken in the realm of science and technology not in the West but in India, where little-known scientists are adapting international technology to indigenous conditions and finding innovative solutions.
— Mukesh Khosla