Friday, August 23, 2002, Chandigarh, India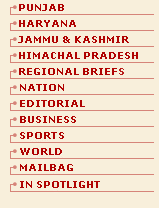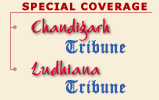 M A I N N E W S
Son of cobbler among 63 sacked
Varinder Walia
Tribune News Service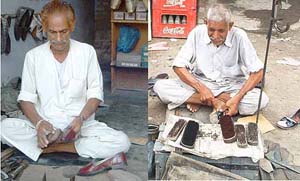 Krishan Chand and Gian Chand, father and paternal uncle of Mr Joginder Paul, a tehsildar sacked by the state government, at Batala on Thursday.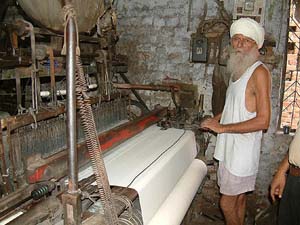 Swarn Singh, father of a sacked PCS (allied) officer, who is working as worker at a handloom factory in Amritsar on a meagre monthly payment of Rs 1500. — Photos Rajiv Sharma
Batala, August 22
Mr Krishan Chand, a cobbler who plies his trade at one of the chowks of this industrial town, did not know that the name of his son, Mr Joginder Paul, a tehsildar (posted at Nihalsinghwala in Moga district) had figured in the list of the 63 sacked PCS (allied) officers. Mr Gian Chand (brother of Krishan Chand), paternal uncle of the tehsildar, who was shining shoes at another chowk, was shocked when this correspondent told him that his nephew had been removed from service by the state government.
Joginder, born and brought up in a slum area of Batala, was the first ever to become an officer from this slum area since Partition.
Nirmal Singh, (a tehsildar of Khadoor Sahib), whose father died when he was young and who was brought up by his paternal uncle, a rickshawpuller, in the Maqboolpura colony of Amritsar was also among the 63 officers whose appointments have been declared null and void. Maqboolpura is nicknamed 'locality of widows'. More than 50 persons of this locality have died of drug addiction and Mr Nirmal Singh was a model in this slum area. Mr Jaspal Singh Gill, a PCS officer, of the same colony was earlier sacked by the government on similar grounds.
Balwinder Singh, an assistant registrar, also sacked today, is the son of a handloom labourer earning a measly sum of Rs 1500 per month. He had joined the PCS after putting up 12 years' service as inspector, cooperative bank, and he could not go back to his parent department as his resignation had already been accepted.
Most of the candidates are qualified and their parents cut their needs to pay for their education.
Many PCS (allied) officers who have been shown the door observed 'black Raksha Bandhan' today. They said despite their excellent academic record Mr Ravi Sidhu, the suspended chairman of the Punjab Public Service Commission did not recommend them for the PCS (proper) as they could not bribe him. Secondly, even though no tout of Ravi Sidhu named any of the PCS (allied) officer for giving bribe in their confessional statements even then the state government had removed them.
Of the total sacked 63 PCS (allied) officers, at least 19 hail from Amritsar and Gurdaspur districts many of them had cleared IAS (preliminary and main examinations) more than once.
Mr Sandeep Rishi, the youngest PCS (allied) officer, is a product of prestigious IIT and had cleared an IAS (preliminary examination) twice. He cleared several entrance tests for different jobs. Similarly Mr Dinesh Singh, son of class III government employee is the product of Jawaharlal Nehru University. He got scholarships till M.Phil. He was doing Ph.D when he was selected assistant registrar, though he deserved to be in the PCS (allied). The sacked PCS (allied) officers have decided to move the Punjab and Haryana High Court for being described 'tainted' though they entered the service on merit.