THE TRIBUNE MAGAZINES
On alternate Mondays

On Sundays
On Saturdays

IN PASSING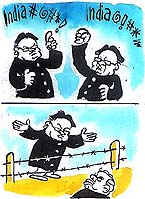 Atalji, can we resume the talks?
by Sandeep Joshi
PM to attend SAARC summit in Pak
Kathmandu, August 22
Despite the high level of Indo-Pak border tension, Prime Minister Atal Behari Vajpayee will travel to Islamabad next January to attend the SAARC summit, demonstrating India's commitment to the growth of the seven-member grouping.


In video: 28k, 56k
SPECIAL REPORT
Women not safe on Delhi roads
New Delhi, August 22
Working women returning home past sunset have learnt to cope with a daily dose of terror unleashed by some miscreants on the Capital's not-so-women friendly streets. The unpleasant experiences faced by women at bus stops do not just end at obscene overtures, offers of a lift and indecent proposals by nouveau riche men at the wheels of fancy cars.
Badal's ex-Media Adviser suspended
Harcharan Bains violated PAU code, says VC
Chandigarh, August 22
Mr Harcharan Singh Bains, Assistant Professor of English at PAU, who was Media Adviser to Mr Parkash Singh Badal, former Chief Minister of Punjab, was placed under suspension today at the instance of the Punjab Government to give effect to a veiled threat given to him at Longowal village on August 20 to severe his association with his political masters within 24 hours or face the consequences.


Son of cobbler among 63 sacked
Batala, August 22
Mr Krishan Chand, a cobbler who plies his trade at one of the chowks of this industrial town, did not know that the name of his son, Mr Joginder Paul, a tehsildar (posted at Nihalsinghwala in Moga district) had figured in the list of the 63 sacked PCS (allied) officers.
SAARC agrees on combating terror
August 22, 2002
SC gets presidential reference on Gujarat
August 21, 2002
J&K poll on schedule
August 20, 2002
EC's order referred to President
August 19, 2002
BJP says EC creating constitutional crisis
August 18, 2002
Pramod to file defamation suit
August 17, 2002
We will defeat terrorism: PM
August 16, 2002
Kalam calls for 'second vision'
August 15, 2002

Amarnath yatra halted
August 14, 2002

Rehabilitate riot-hit, Kalam tells Modi
August 13, 2002

Gujarat situation quite delicate: CEC
August 12, 2002

Hurriyat sticks to poll boycott decision
August 11, 2002